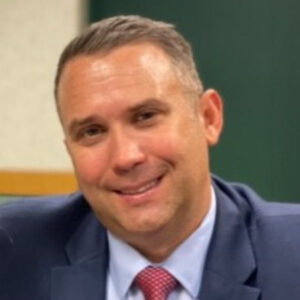 Dave Fischer, project manager for the Harrisburg office, recently celebrated his one-year work anniversary with Reynolds Restoration Services. In his role, Dave is responsible for managing disaster restoration and reconstruction projects from initial estimate through project completion including overseeing project timelines, adherence to budgets, and allocating resources to support the team.
Dave, a self-starter and motivator, starts his day well before the sun rises, often getting up before 5 a.m. This trait is likely rooted in his years of military service. Inspired to join the Army after September 11, Dave spent years honing his leadership skills, discipline, and motivational strengths in active duty between 2002 and 2009. Following his tenure in active duty, Dave spent another three years as a member of the Florida National Guard before re-entering the civilian workforce.
After working years in the healthcare industry in different roles, Dave discovered a passion for helping people as a volunteer firefighter. "I was passionate about helping people, and needed an outlet where I could do that," says Dave. "I was in a transition in my career and firefighting was a natural next step."
While working with a local fire department in the Harrisburg area, Dave learned about the restoration industry while responding to accidents within his response area. "As an emergency responder, I helped people in the immediate aftermath of a fire or other accident. Emergency restoration is also a way to help people after an emergency, so I applied for a job with Reynolds," shares Dave.
Dave thrives on the unpredictability of the restoration industry. Some days he's out in the field with work boots and a tool belt helping on large projects and other days he's making sure projects are running smoothly from the office. No two days are exactly the same – the way he likes it. "Monotony is boring to me – I love the variety of my day-to-day at Reynolds," says Dave.
Dave credits his easy transition to the restoration industry to his colleagues and the Reynold Restoration Services culture. "Joining the team has been a great experience. Not knowing the intricacies of the industry, the people here have been very supportive and generous with their knowledge and time. The camaraderie and culture are great, too. It feels just like an awesome platoon in the military," shares Dave.
Outside of work, Dave continues to volunteer with a local fire company as well as spends time hiking, skiing, hunting, fishing, or doing anything outdoors. Dave and his wife of two decades are the proud parents of a college-aged daughter and a high school aged son. They also share their home with two rescue pups – a Black Mouth Cur and a Plott Hound mix. Dave holds a Bachelor of Science in business administration from Stevenson College in Maryland.
Fun Facts
During his military service, Dave earned his Ranger Tab, a decoration of the United States Army signifying completion of a Ranger School course in small-unit infantry combat tactics in woodland, mountain, and swamp operations.
Dave has ambitious travel goals and would love to visit Turkey, Italy (specifically Florence), and Argentina. Domestically, he has his sights on Montana and the Dakotas.
A beach enthusiast, one of Dave's favorite places to be is South Carolina. Both of his children learned to swim on a South Carolina beach and he loves to surf.