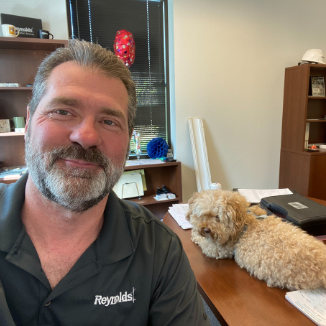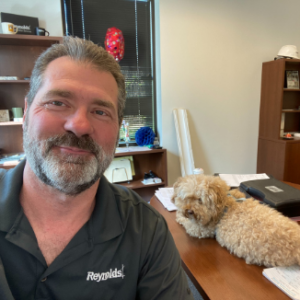 Craig McConnell joined the Reynolds Restoration Services Elkridge team as a project manager in February 2017 and was promoted to branch manager for the office in May 2018. In his current role, Craig is responsible for the oversight and leadership of the Elkridge team, ensuring the staff has the resources and support needed to successfully complete projects for both commercial and residential customers.
Craig has built a career working in the construction and emergency restoration industries. Prior to joining Reynolds Restoration Services, Craig previously worked for close to a decade at another restoration services company and also worked as a construction supervisor for a general contractor. He even ran his own drywall company early in his career. All of these hands-on roles gave him insight into how to successfully run a project and helped prepare him for his leadership role for our Elkridge office.
An early bird, Craig is usually in the office by 6:30 a.m. to get a jump on the day. Although the restoration industry is unpredictable, Craig's typical routine is to check in on current projects to make sure they are on track, review any jobs that came in overnight, and essentially set the team up for success each morning.
"First and foremost, I work with our team to make sure they have their needs met, not only in relation to what tools and resources they need to do their work, but also make sure they feel supported and a part of the team. I have total confidence in our crews and try to provide a level of support and oversight so they can get the job done quickly, safely, and efficiently for our clients," shares Craig.
Although Craig has worked on hundreds of jobs throughout his tenure at Reynolds Restoration Services, he cannot choose one specific project that stands out to him, but rather thinks about the cumulative experiences that make Reynolds Restoration Services unique. "What is most memorable to me," says Craig, "is our ability to help customers at one of the lowest points in their lives. When there is a catastrophic loss at a home, it may be the second or third one of the week for our team, but it's the first one for our client. We take pride in being compassionate and caring in our line of work. Our customers deserve it."
Outside the office, Craig is not letting the grass grow below his feet for too long. As both a skilled and trained DIYer, Craig is often lending a hand at his friends' and family members' homes on a project. He's recently helped with electrical rewiring, framing, and drywall and enjoys being able to offer help when he can.
Craig grew up in Western Pennsylvania before relocating to the south-central PA and northern Maryland region. Craig is the proud father to two grown daughters, Madeline and Cara, and currently resides in the Baltimore metro region with his cat, Lilly, and dog, Jordy.
Fun Facts
Craig is excited to lace up his running shoes to get back to long-distance running this spring. Running is his time to focus and reenergize.
Although he's worked in construction and restoration for most of his career, Craig joined the workforce after college in law enforcement. Craig worked for many years as an investigator in western PA.
Craig's 'bucket list' travel destination is Germany. He is intrigued by the landscape and wants to visit the Black Forest, a mountainous region in the southwest known for evergreen forests and picturesque villages.