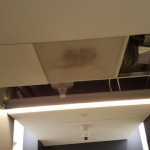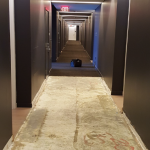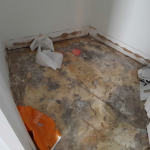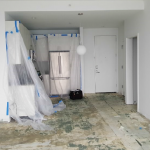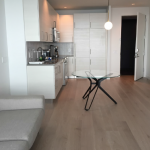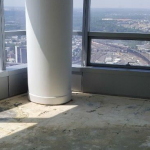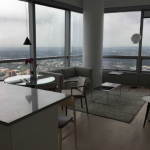 Project Background
A prominent, high-end mixed-use tower experienced a burst 1.5-inch hot water pipe on the 46th floor. The 861,000-square-foot building, which is 47 floors tall, had 10,000 gallons of hot water affect nearly 20 floors, and 60 residential and rental properties. In addition to drywall, insulation and related building materials being affected, high-end products such as Italian flooring and premium linens and electronics were damaged.
Within hours, a crew of 40 Reynolds Restoration Services team members were on site to begin mitigation and demolition work. The emergency response team worked diligently to dry the residential and rental units in a week in preparation for the repairs and construction team to get the units ready for owners to return to their homes.
The water loss was significant, affecting 50,000 square feet and displacing several families. The restoration and construction teams had to work swiftly to get residents back to their apartments as soon as possible without sacrificing quality of work. Additionally, since the entire building was not affected, there were still residents in the building as well as operating services such as a dining and fitness center. Restoration teams planned repairs keeping sound, dust and construction debris safely removed from occupied spaces to minimize disruption.
Procurement of materials also presented challenges, as original flooring and fixtures were sourced internationally. Reynolds Restoration Services worked with the original builder to procure materials to replace items that were unsalvageable.
Project Specs
Services Provided:
Mitigation
Demolition
Construction debris removal
Dust removal
Material procurement
')