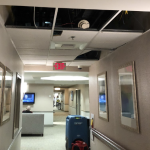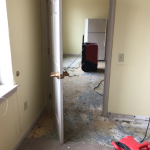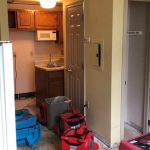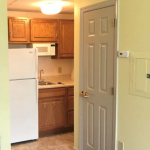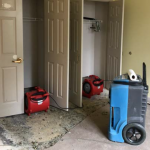 Project Background
The Bridges at Bent Creek is a senior living community in Mechanicsburg, PA offering supportive, wellness and memory care. Bent Creek offers an independent apartment living with personal care services readily available. During the winter of 2018, a sprinkler line in the facility froze, causing pipes in the attic to burst. Water poured through the ceiling insulation and into four resident apartments.
Within one hour of calling Reynolds Restoration Services, a representative was on-site assessing damages and within 4 hours, a crew was already removing wet insulation and formulating a drying plan. With the help of air movers, dehumidifiers and air scrubbers, the drying process was complete in under two weeks.
After drying was complete, our team completed repairs to the resident spaces including installation of drywall, cabinets, trim and vanities as well as new paint.
One challenge and unique factor for this project was that the work was coordinated and executed inside an active senior living community. Our team had to plan and work around resident requirements, including personal care and assisted living needs. Scheduling and coordination were complex in order to minimize disruption within the facility.
Additionally, a challenge that faced the teams at both Bent Creek and Reynolds Restoration was obtaining approval of the insurance claim through the owner's carrier. Initial amounts approved for the loss were not aligned with repair estimates and delayed work at the facility. Having worked with insurance carriers extensively on many projects, our team worked as an advocate for Bent Creek, and helped get the claim through the approval process so work could begin and residents could return to their homes.
Project Specs
Solutions: Restoration
Services Provided:
Damage assessment
Remediation
Removal
Drywall
Cabinets
Trim
Vanities
Paint

')