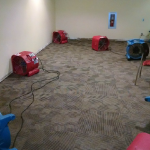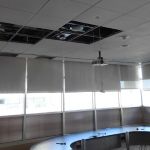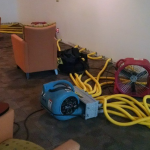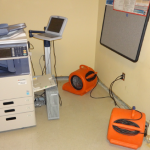 Project Background
A Pennsylvania-based higher education facility experienced severe water damage after the rupture of a four-inch sprinkler riser coupling located in an 8th floor stair landing. Tens of thousands of gallons of water flowed down the stair tower, spreading out on each floor, through the ground floor lobby, and out the front door onto the public sidewalk.
Reynolds Restoration Services crew members mobilized from the warehouse located within four miles of the university building. Emergency service began at 2:00 a.m. and by 8:00 a.m., extraction had been completed with drying equipment in place. Classrooms and student service areas remained operational while equipment and demolition activities were conducted behind safety barricades and containment. After an in-depth survey checked the structure for hidden areas affected by the water and determined the depth of saturation, Reynolds Restoration Services deployed specialty drying and monitoring equipment to effectively dry the building. Open areas such as classrooms, library, lounge, and lobby were reconstructed within 3 days, while recessed structural components, such as concrete and spray-on fireproofing, were dried and rehabilitated within 7 to 10 days.
The project's success was a result of quick response to the loss, understanding the operational needs of the owner, awareness of safety, consideration of workers and occupants, correct application of equipment, accurate record-keeping, and coordination with the insurance company.
Project Specs
Solutions: Restoration
Services Provided:
Emergency services
Demolition
Structural drying
Structural drying
Millwork
Structural cleaning and deodorization
Project coordination/project management

')