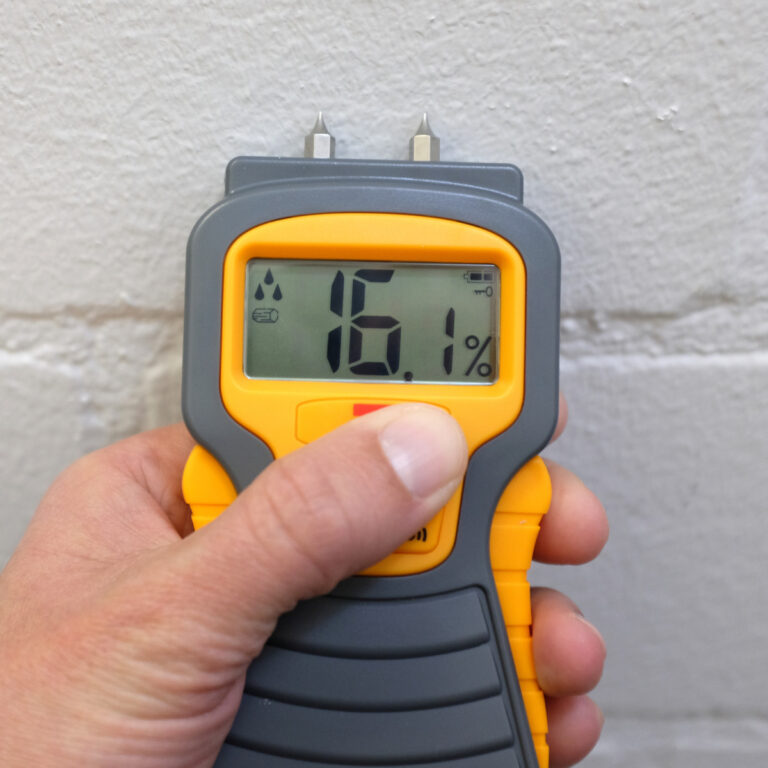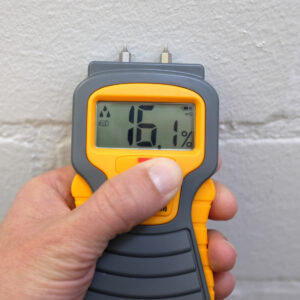 Whether an overflowing appliance or a deluge of rain, water damage is a common occurrence for both home and business owners. Wet carpeting, wood floors, cabinets, furniture, and especially drywall can take days or weeks to dry out, and that's just what you can see with a visual inspection. Measuring wall moisture is one way to diagnose the severity of a water loss event.
In order to completely restore a water-damaged building, it's important to measure the wall moisture during the drying process. Drying out after a water event can take time and knowing what you are dealing with can help get your home or business back to its pre-loss condition efficiently.
Let's take a look at the most common places moisture hides, steps to take after water damage, and how a moisture meter can help measure wall moisture.
Common Places Moisture Hides
Whether you are dealing with a burst pipe or a major weather emergency, the level of moisture after the fact can indicate how involved the water damage restoration process can be. Water loves to hide in places like drywall, wood, carpeting, and other areas. Here are the most common affected areas where moisture can hide after a flood:
Drywall: Drywall, also called plasterboard, sheetrock, or wallboard, is primarily used to create walls and ceilings. It is made up of sulfate dihydrate and is one of the most vulnerable construction materials during a flood. Water permeates drywall very easily and if exposed to water for an extended period of time, it can get damaged. When damaged, it loses its structural integrity and becomes weak and soft.
Carpeting: If you've ever experienced a water loss in a carpeted area, you know how soggy the carpeting and padding can become. Even if you think the carpeting is dried out, moisture can still remain and cause problems such as mold. Even a small amount of moisture can become problematic over time.
Wood floors: The moisture content of wood should be around 6-8% for interior spaces. After a flood, however, the moisture level can be excessively high and reach more than 20%. Given enough time and with the use of dehumidifiers and other drying tools, wood can naturally dry out to an acceptable moisture level.
Furniture: Furniture is another item that moisture loves to hide. Given the amount of fabric, cushions, and wood in most furniture, it can take days for large pieces of furniture to dry out completely.
Ceilings: Ceilings are often made of drywall or another permeable substance. If you have a roof leak, you will likely see signs of water damage. In some instances, a high moisture reading can indicate a ceiling needs to be removed and replaced.
Bottom line? Moisture can hide almost anywhere after a flood or water emergency. Unless the affected materials are impermeable, moisture can linger without proper mitigation and restoration efforts. If you are unsure of how to dry out your home or business after a flood, a water damage mitigation and restoration company can help you with the process.
Using a Moisture Meter After Water Damage
After a flood, measuring the moisture in the affected areas will give you a good idea of the magnitude of the water loss. Checking moisture, especially in drywall, can help you create a path to restoring your home to its pre-loss condition.
At Reynolds Restoration Services, we rely on tools like moisture meters to check if there is a high moisture reading in walls. Throughout the drying process, we use moisture meters to check the progress and determine when there is a safe moisture level in walls.
There are several different types of moisture meters that professionals use to measure drywall moisture including:
Pin-type meter: This type of moisture meter uses probes, or pins, to measure the moisture content of drywall or other affected materials.
Pinless moisture meter: Pinless moisture meters are often used to measure the moisture in flooring.
Thermo hygrometer: A thermo hygrometer is made to measure relative humidity and can give you a broad reading of moisture in an affected area.
Many DIYers have moisture meters in their home toolbox. Restoration companies will have several different types of moisture meters in their inventory to use depending on the circumstance. Meter readings can give you a good sense of what kind of water mitigation and restoration is needed after a water loss.
Steps to Take After Water Damage
After a water event at your home or business, it's important to act quickly to begin the drying process and stay ahead of a potential mold infestation. Mold can be very problematic and can cause health issues for building occupants.
If you've experienced a water loss, here are some important steps to take to help minimize your loss:
Turn off power to the area: Water and electricity are not a good pair. To avoid electric shock, turn off the electricity in the affected area.
Mitigate mold development: Mold needs moisture to thrive. If possible, keep the affected area cold and dry to avoid mold growth. Remove water-logged items from the area to help reduce the amount of moisture.
Discard damaged items: After a water loss, some items may not be salvageable. If the items are not able of being dried out, document their estimated value for your insurance company.
Begin drying process: For small water losses like a leaking faucet, you may be able to handle the drying process on your own. Open the windows in the affected space and use a dehumidifier to pull the moisture out of the affected materials.
Contact an emergency restoration company: For large water losses, it's best to trust the water mitigation and restoration process to a professional. Professional emergency restoration companies have the tools, training, and resources to address a water loss head-on and complete the process quickly and efficiently. Further, an emergency restoration company can help you steer clear of a mold or mildew issue.
Water Damage Emergency Restoration Services 
At Reynolds Restoration Services, we take the stress out of water damage mitigation and restoration for our clients. When you have a water loss – whether it's a flood or a leaking appliance – we are here to help you restore your property to its pre-loss condition quickly. With more than 15 years of experience helping home and business owners, we know how stressful a loss can be.

With three offices in the mid-Atlantic including Harrisburg, PA, Philadelphia, PA, and the Baltimore/D.C. metro area, to serve you, we can be on-site quickly! Our team is on call 24/7/365 to help you recover after a loss. Contact us at 1-888-277-8280 for immediate help! Our goal is always to respond and rebuild with care.

')