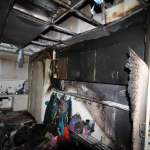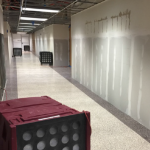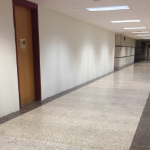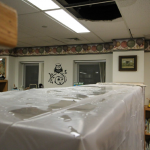 Project Background
Cold Spring Elementary School in the Bucks County School District experienced a fire on a February afternoon in an unoccupied 2nd floor classroom. Emergency personnel were able to contain the fire and all students were safely evacuated. In addition to the fire damage in the source room and surrounding area, the school experienced extensive water damage in 60,000 square feet of the school. Based on an existing relationship, District administrators reached out to Reynolds Restoration Services for help and assistance.
Within one hour of the administration calling Reynolds Restoration Services, a representative was onsite assessing damages. Within four hours, a crew of 30 team members were at the school starting to remove ceiling tiles and developing a drying plan. Desiccant dehumidifiers and generators were delivered to start the drying process. Within 24 hours, the humidity was reduced from 75% to 7%, setting the course for the full remediation and restoration process.
Several challenges emerged for this project, most notably that the emergency occurred in an occupied school in the middle of the school year. Twenty classrooms were affected, as well as restrooms, the library and the gym. Working with the administration, our team identified alternate usable spaces for the students and created temporary classrooms so restoration work would not interfere with the learning experience.
Teams of 20-25 members worked 10-12 hour days to pack out classroom contents, dry and re-shelve library materials, and meet all drying goals within one week.
Project Specs
Solutions: Restoration
Services Provided:
Ceiling tiles
Drying plan
Remediation
Alternative spaces
Removal
Replacement
Fire damage remediation
')