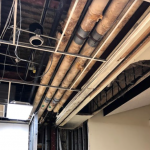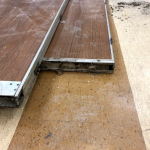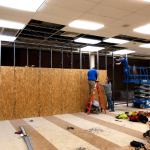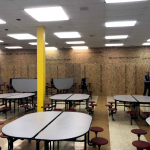 Project Background
In mid-November 2018, Indian Crest Middle School in the Souderton Area School District experienced an electrical fire caused by malfunctioning equipment on a paneled partition wall between the school's cafeteria and auditorium. The fire, which occurred when the building was unoccupied, was quickly extinguished by emergency responders, however, caused extensive smoke damage in the building.
Reynolds Restoration Services came up with a plan to remediate the smoke odor and repair damages in the cafeteria so the school could resume regular services. Nearly 60 crew members were at the school within a day to begin demolition of ceiling tile and the partition doors, as well as repairing damaged walls and structural elements. The team also built a new temporary wall to replace the partitioned wall that was the source of the fire itself.
State regulation requires schools have an operating cafeteria and life safety system (alarms, sprinkler systems, etc.), among other requirements, for school to be in session. Within one week of the fire, Reynolds Restoration had addressed all issues that prevented school to be in session, and the school was cleared by both the Health Inspector and the Fire Marshal for occupancy.
Long term, the school needed additional repairs and renovations that were not required for occupancy. In order to minimize disruption to the learning experience, our team worked during the Thanksgiving school break to replace carpeting, continue content cleaning, and install new fire-rated wire glass doors. Additional work was completed over the District's spring break, most notably the installation of new partition doors between the cafeteria and auditorium.
Project Specs
Solutions: Restoration
Services Provided:
Life safety system
Flooring
Windows
Partition doors
Drywall
Painting
')