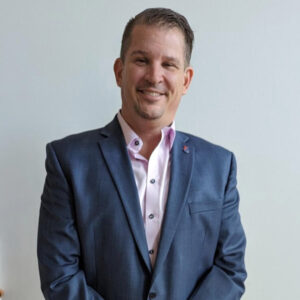 Anthony Worrall is the president and founder of Reynolds Restoration Services, but that's of course not where his story begins. His career journey began in the late '90s when he landed a job as a staff accountant with Reynolds Construction Management. Fresh out of Lycoming College with a degree in finance, Anthony spent the first few years on the job absorbing as much as possible about the industry, best practices, and how he would define success for himself and for Reynolds.
Young, inexperienced, but eager to learn, Anthony looked to his mentors to not only help him learn the construction industry, but also help him transition from a young adult to a career entrepreneur. One of those mentors is Rick Reynolds, the founder of Reynolds Construction.
"Rick Reynolds was the face of the company back then and a visionary in the industry. I owe a lot of my current success to his willingness to take a chance on me. He put me in situations to experience success at a young age and looking back, he's one of the most influential people I've had in my professional career."
By 2002, Anthony was promoted to Controller and then in 2004, promoted again to CFO. In 2005, Anthony, along with his colleagues at Reynolds Construction, started Reynolds Restoration Services.
Reynolds Restoration Services was born out of a passion to help customers through what is often a horrible experience. Anthony saw this firsthand when his parents lost their home to a fire in 2004.
"My parents' experience in the aftermath of the house fire was stressful and confusing. I knew our team could do better for homeowners in emergency situations. On top of that personal experience, our existing commercial clients at Reynolds had a need for a reliable restoration company. Our team stepped up and started Reynolds Restoration Services to fill a gap in the industry," shares Anthony.
An entrepreneur to his core, Anthony and two partners – Dave Angle and Jeff Merritt – purchased the Reynolds portfolio of companies from Rick Reynolds in 2013. For the next five years, they led each division through change and record growth. In 2018, the trio sold the portfolio to SitelogIQ, a national facility solutions company. The sale enabled Reynolds to better serve its commercial construction clients through additional capital and human resources. But Anthony was not quite ready to move on from Reynolds Restoration Services.
In a full-circle moment, Anthony purchased Reynolds Restoration Services back from SitelogIQ in October 2020. His focus since then has been to move the company out of the shadow of the former Reynolds Companies and establish Reynolds Restoration Services as a regional leader in the industry.
"It has been a challenge and an uphill climb to set ourselves apart, but our sales and marketing strategy has proved successful. In less than three years, we've been able to stand out from our competition and solidify ourselves as a leader in the industry through solid work, transparent communication with our clients, and above all, the hard work and dedication of our team," shares Anthony.
In addition to leading Reynolds Restoration Services, Anthony is also a partner at Everound, a Managed IT Services company in Camp Hill, Pa. Anthony joined the startup in 2020 and describes the partnership as a perfect marriage of entrepreneurs.
"The team at Everound is a success because of the positive attributes we share as business owners – provide exemplary customer service, work hard every day to win trust, and always improve your knowledge and experience in your industry," shares Anthony. "The team at Everound has a unique ability to make information technology understandable and relatable for their clients. I am so proud of what they have accomplished since I joined the already strong team."
Not only is Anthony a dedicated and passionate business leader, but he also has a heart for service. His first passion is his volunteer work with Vista Autism Services, where he is Vice President of the Board of Directors. Vista Autism Services offers a wide range of support services that improve the lives of individuals with autism and their families from diagnosis onward.
Anthony's involvement with and dedication to this organization and its mission is very personal. Anthony's daughters were diagnosed in 2016 with Sanfilippo syndrome, a rare lysosomal storage disorder (LSD). In these disorders, genetic variations affect speech, motor skills and cognitive ability. His family has relied on support from Vista Autism Services since their diagnosis.
"My wife Carolyn and I understand not all parents with children affected by Sanfilippo syndrome have the means to take care of their special needs children. This disease dominates our home life and we have used their diagnoses as a way to help people understand the disease. Vista Autism Services has helped our daughters and I am honored to give my time to this absolutely needed organization," shares Anthony. "They are doing great work in our community and have personally helped our family."
In addition to working with Vista Autism Services, Anthony is also the outgoing annual campaign chair for the United Way Capital Region, where he's been involved in various capacities for the last 15 years including board membership since 2021. As the annual campaign chair, Anthony took on the campaign goal as his own personal goal and made a commitment to help them reach $8.81 million in donations.
"Without the annual campaign, United Way would have to cut services for our community. We couldn't let that happen," shares Anthony. "The annual campaign brought in $8.879 million thanks to the hard work of our community. That's an impressive accomplishment that speaks to the amount of heart in the Central Pennsylvania business network."
Outside of work and volunteering, Anthony loves to spend time with his wife of almost 21 years, Carolyn, and their children – daughter Alexa (17), son Lucas (14), and daughter Lacey (11). He's also likely to be found on a basketball court with friends, cheering on his favorite sports teams, or trying to master the game no one can, golf. Anthony and his family live in Hummelstown, Pa.  
Fun Facts
Anthony is a Philadelphia Eagles FANATIC. He was able to take his son on the trip of a lifetime to the Superbowl this year.
If you're a Sixers fan, you may catch a glimpse of Anthony in the crowd. He's been a season ticket holder for 18 years.
While travel is difficult for Anthony and his family, their absolute favorite destination is Bermuda. The sun, sand, and ocean are the top reasons why!
')