According to the National Fire Protection Association, there are more than 350,000 house fires a year. For homeowners who have experienced a loss due to a fire, the cleanup and recovery can be challenging. Smoke residue can build up and leave a lingering unpleasant odor and if left untreated, can be hard to remove.
The good news is smoke odor can be removed from a home, although it takes hard work. If you've experienced a fire at your home, use the following tips to restore your home to its pre-loss condition.
How to Get Smoke Smell Out of a House After a Fire
Open the Windows
Immediately after you are safely allowed to return to your home, open all windows to air out the property. Fresh air can help clear out smoke odors. When the smoke odor is contained, it can continue to permeate surfaces in the home.
Proper ventilation can help to reduce the amount of odor in the home. Set up fans near doors and windows to "push" smoke odor and soot outside.
Deep Clean the Home
The best way to remove smoke odor from a home is to deep clean all surfaces and items affected by smoke damage. Simply covering up the odor with scented candles or other air fresheners will not work long-term to remove any lingering smells caused by a fire.
Carpeting and Upholstery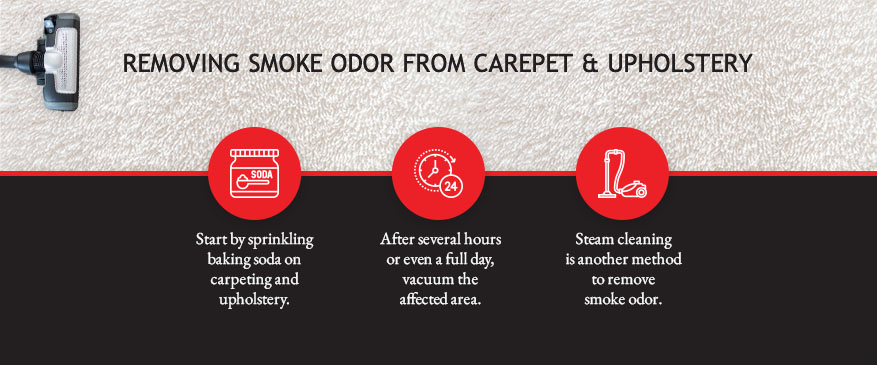 Smoke particles and soot can get lodged deep in upholstery and carpeting and if not properly cleaned, they can hold on to smoke odor. Start by sprinkling baking soda on carpeting and upholstery. After several hours or even a full day, vacuum the affected area using a vacuum with a HEPA filter. The filter will prevent smoke particles from blowing back into the room. Steam cleaning is another method to remove smoke odor, but may not be suited for delicate upholstery such as leather. If some of your items are delicate, you may want to contract with a damage restoration company to have them professionally cleaned.
Fabric


Completely remove all curtains, area rugs, cushions, blankets, and other fabric from the affected area of the house. Wash these items thoroughly, or have them dry cleaned. Also consider laundering towels, sheets, and any other fabrics that may have been exposed to smoke. If you are laundering fabrics on your own, keep in mind it may take several cycles to completely remove odor. Try using a cup of regular laundry detergent mixed with a cup of distilled white vinegar for stubborn odors.
Solid Surfaces


For solid surfaces such as window sills, window screens, countertops and glass, use a cleaning solution of warm water, distilled white vinegar, and dish soap. Using a sponge, methodically wipe down all surfaces and remove any soot that may have settled.
HVAC System


This may be the most important step in removing smoke odor. During a fire, smoke infiltrates a home's entire HVAC system, and smoke and soot residue can get trapped in ductwork. Change all air conditioning filters as soon as possible after a fire. You should also have your HVAC system inspected for damage and engage a professional duct cleaning company to thoroughly clean the system. 
Hydroxyl Generator
Some stubborn smoke odor may require the use of a hydroxyl generator. Hydroxyl generators produce oxidizing gasses that break apart odor molecules.
Repaint the Walls
Paint can retain many odors in a home, especially smoke after a fire. Before you invest in a huge painting project, clean the walls of your home using ammonia- or glycol-based cleaning products. Once the walls have completely dried, cover the walls with an odor-sealing paint primer and then your favorite latex paint.
When to Call a Professional Smoke Odor Removal Company
Smoke odor can be hard to remove after a large fire. If you've attempted to clean your house and its contents using do-it-yourself techniques and odor still lingers, you may want to engage a professional company to assist. At Reynolds Restoration Services, our team of emergency damage restoration professionals have the tools and products designed to restore a property to its preloss condition after a fire.
While we hope you don't need our services, we are here to help you if you need us. For more than 15 years homeowners in Harrisburg, PA, Philadelphia, PA, and the Baltimore/DC Metro area have trusted us to restore and rebuild their homes after a fire. Reach out today to learn more.


')