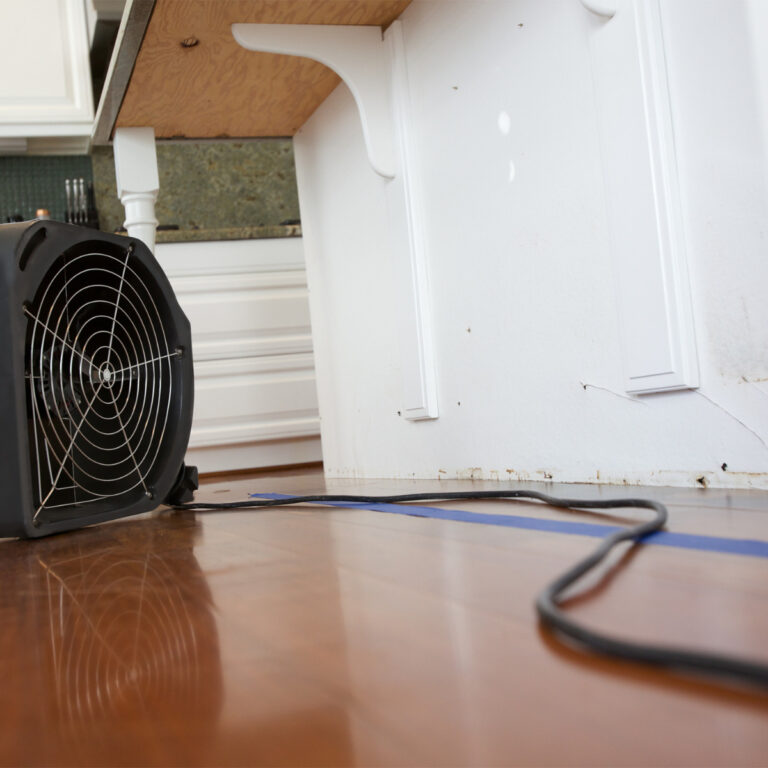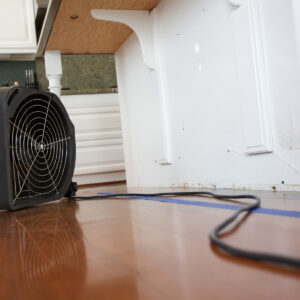 The kitchen is full of water hazards — leaking refrigerators, dripping faucets, spilled food and drinks, and even burst pipes. These water hazards can lead to disaster for a kitchen, especially kitchen cabinets. Water-damaged kitchen cabinets can become stained, warped, and bubble – all unsightly issues that can lead to thousands of dollars in repair costs and if left untreated, mold issues.
The good news is some water-damaged kitchen cabinets can be salvaged and may not need to be replaced. Let's take a look at how water can affect cabinets, the steps to take to repair cabinets that aren't severely damaged, and when to call in a professional.
How Water Damages Kitchen Cabinets
Kitchen cabinets come in a variety of materials, but wood-based options are the most popular. Hardwood and plywood are the most common followed by medium-density fiberboard (MDF), particle board, or veneer. While these products are durable, they are not completely water resistant and are at risk for water damage.
Water seeping into cabinet surfaces can cause wood to warp or even rot, while moisture on cabinet interiors can accelerate wear and offer the ideal environment for mildew and mold growth. If such issues are left unchecked, not only will cabinet aesthetics be negatively impacted, but more importantly there could be health risks from the buildup of bacteria in cabinet crevices.
Here are steps to repair water damaged kitchen cabinets:
Steps to Repair Water-Damaged Cabinets
While replacing kitchen cabinets may feel like the only solution in some cases, some water-damaged wood can be repaired. Homeowners should be patient when addressing kitchen cabinet water damage – it can be a time-consuming problem to fix! If you are good at DIY projects, here are steps to take to repair the damaged areas of your cabinets:
Clear Out Cabinets Before Starting Repairs
Make sure to remove all dishes, appliances, food, or other items before attempting any cabinet repairs. This will prevent further water damage that may linger in the cabinet cavity and make it easier for you to access the inside of the cabinets for repairs.
Vacuum Water with a Wet/Dry Vac
Wet/dry vacuum cleaners are one of the best tools when it comes to removing standing water from uneven surfaces like cabinets. The suction power provided by these machines will quickly draw out any remaining moisture and reduce drying time considerably. Be sure not to use too much pressure when vacuuming due to the potential damage it can cause to delicate cabinet finishes.
Open Windows and Doors
Open all windows and doors in your kitchen in order to increase air circulation throughout the room while drying out your cabinets. This will help speed up drying time as well as reduce high humidity levels which could result in mold growth if left unchecked over time.
Use Fans or Dehumidifiers
Fans can be used in conjunction with open windows and doors to direct airflow towards wet areas like your cabinet doors, thus speeding up drying time even more. Dehumidifiers are also very effective at reducing humidity levels within a room and aiding in drying times.
Clean Cabinet Doors & Exteriors
Use an antibacterial cleaning solution with lukewarm water along with a soft cloth or sponge to scrub any visible dirt or grime off of the outside of the cabinet boxes, paying particular attention to the handles where bacteria accumulates often due to frequent use.
If your cabinets or hardware are stained and rusted, oxalic acid may be a good option for cleanup. Oxalic acid is an excellent wood bleach that can help restore stained light woods to their natural color.
Dry Cabinet Interiors Thoroughly
Dry out any remaining moisture inside of the cabinet boxes themselves using either towels or fans depending on how much moisture remains after using the wet vac. Pro tip: if you have access to an infrared camera, this tool can detect hidden moisture spots deep inside wood structures that towels or fans could not address.
If you are unable to completely dry out your cabinets, they will continue to delaminate and warp and lose their finish. In this case, it's best to call a professional water damage restoration team to help you salvage your cabinets before they experience structural damage.
Re-Stain Cabinets
Once interior cabinetry surfaces are completely dry, lightly sand them using fine-grit sandpaper to prepare them for a coat of new stain. Staining will bring back the original color of your cabinets. Depending on what type of stain had originally been applied when cabinetry was installed, this may involve either an application of clear or tinted varnish.
Hire Professional Assistance When Necessary
While you may be able to tackle a cabinetry project, some are better left to the professionals. Emergency restoration professionals specialize in repairing damages caused by water leaks and kitchen floods. If your cabinets are damaged beyond your DIY skills, consult with an emergency restoration services company to provide water damage remediation and reconstruction services.
Water Damage Emergency Services
Repairing water-damaged kitchen cabinets is a time-consuming and detailed process – you don't have to take the project on alone! At Reynolds Restoration Services, our team of trained and professional water damage remediation and restoration technicians has the expertise the get the job done right for you.

We are available 24 hours a day, 365 days a year to respond to emergencies. With offices in Harrisburg, Pa., Philadelphia, Pa., and the Baltimore, Md./Washington, D.C. region, we can be on-site at your home within hours. Let us take on the task of cleaning up your flooded kitchen and repairing your water-damaged cabinets – our goal is to respond and rebuild with care!

')