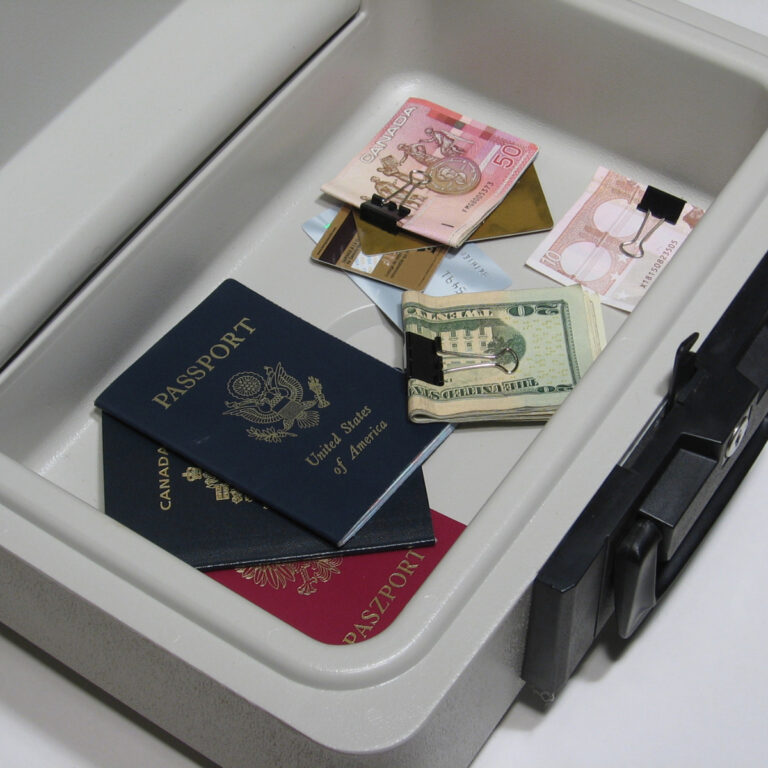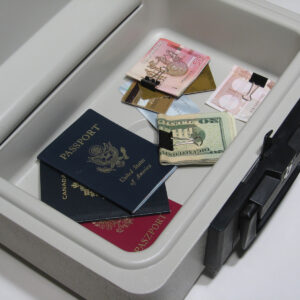 In an emergency such as a fire, flood, or another natural disaster, you may only have minutes to escape your home. How do you keep important documents such as your birth certificate, social security card, and financial paperwork safe from harm? Let's take a look at tips to protect important documents when disaster strikes including taking inventory of your documents, making extra copies just in case they get damaged or destroyed, and proper storage solutions.
Take Inventory of Documents
There is a long list of documents that you should protect in case of an emergency such as a fire or flood. There are family documents such as birth certificates and marriage licenses; financial paperwork like mortgage and loan agreements; and legal documents such as wills to inventory.
While this list isn't all-inclusive, here are the most common documents a homeowner should gather:
Birth certificates or adoption certificates
Social Security cards
Marriage or divorce certificates
Citizenship papers
Passports
Driver's license and state-issued IDs
Custody or guardianship documents
Financial documents including mortgage agreements, credit cards, loans, insurance policies, utility bills, and tax returns
Medical records including immunizations and prescriptions
Pet records including medical, vaccinations, photos, and ID chip numbers
Legal documents such as a will, living will, and power of attorney
Titles to property including home, automobiles, RVs, and boats
Taking inventory of all of your important documents is the first step in protecting them from harm. Once you've identified and gathered your documents, the next step is to make copies of them in case they are accidentally damaged or destroyed.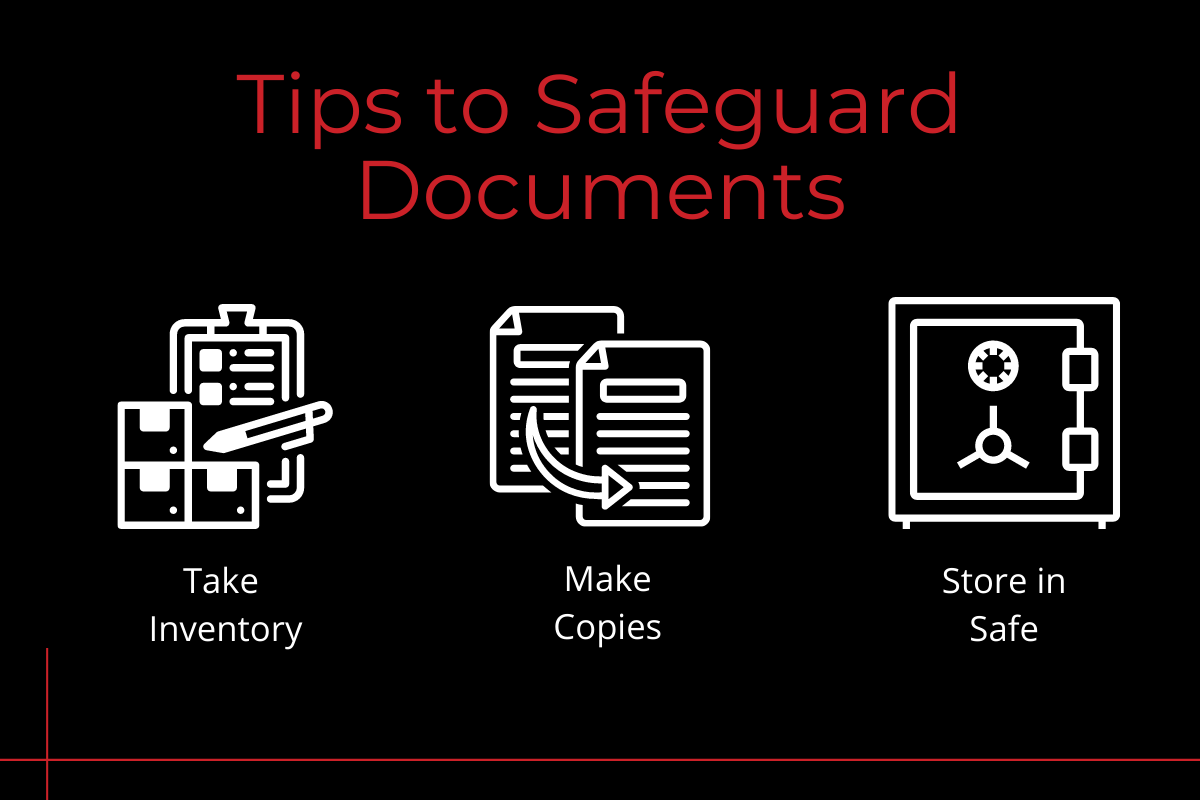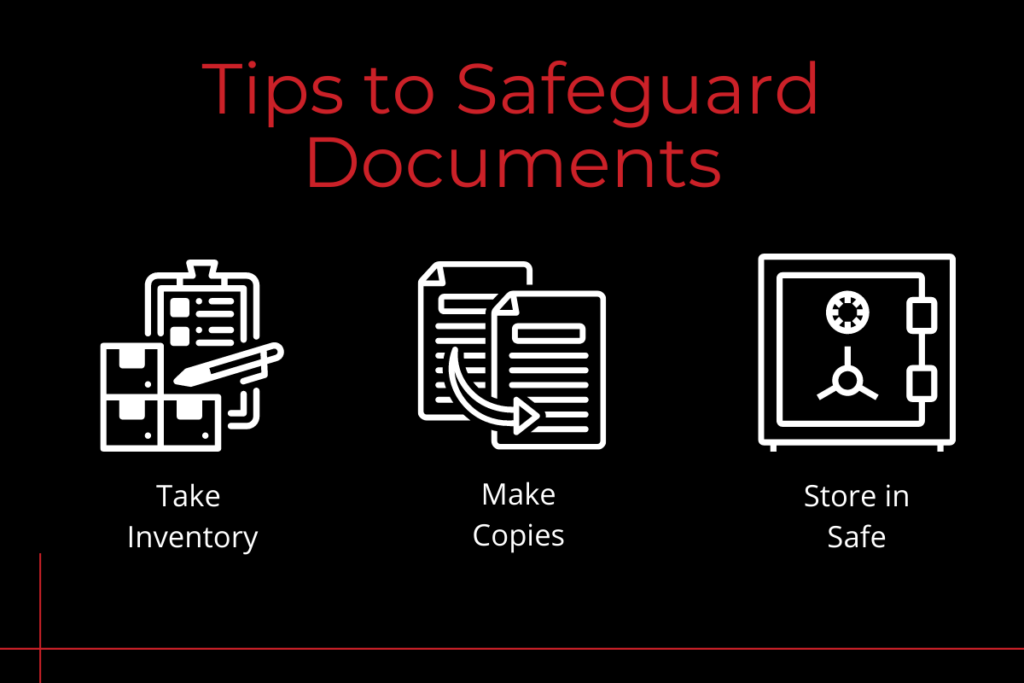 Make Copies of All Documents
Another tip to keep your important documents safe is to make physical and digital copies in case the originals do get damaged or destroyed. While not ideal, you can use copies of lost documents until you can secure new ones.
Use a home scanner to scan and save documents onto a flash drive or into the cloud. You can also use an app specifically designed for documents for digital storage.
You can also make physical copies on most home printers. Take extra copies to another trusted location such as a relative or friend or to your bank for safekeeping.
Store Important Documents Securely
There are several options to protect your important documents from harm. When deciding how to store important documents at home and how to protect important documents from fire, floods, storms, and other types of environmental hazards, consider these solutions:
Store Documents Together: In an emergency, you don't have much time to react. Keep your documents in the same location for quick retrieval if it is safe to do so. Store the documents on the first floor of your home, preferably near an exit.
Store Documents in "Emergency Proof" Home Safes: Keep all important documents in a waterproof safe, a fireproof document safe, or a fire safe filing cabinet. Using proper storage solutions can help protect your documents in case you cannot retrieve them during an emergency or environmental disaster. Many fireproof boxes for documents are also water-resistant or waterproof, offering you double protection. Do not stack anything on top of the safe or box making them hard to grab quickly.
Store Documents in a Different Location: Many banks offer their customers safe deposit boxes. Once you've taken inventory of your paperwork, consider moving them to a trusted friend or family member's home, or to your bank for safekeeping.
During an emergency, you may be rushed for time and need to act quickly. Having your documents stored together in a safe box can reduce stress in an emergency situation and proper storage can save your documents from fire or water damage in an emergency.
Disaster Restoration from Reynolds Restoration Services
Reynolds Restoration Services is the premier residential and commercial emergency restoration company in the mid-Atlantic region. For more than 15 years our team of trained and certified emergency services professionals has been helping home and business owners return their property to its pre-loss condition after a fire, flood, storm, or another catastrophic event.

In addition to our emergency restoration services, we also offer content cleaning and odor removal for items damaged in a fire or flood. We can also repair and restore affected items in your home if they are able to be salvaged. While we hope you don't need our services, know we are on-call 24/7/365 in case you need us. If you've experienced a loss due to a fire, flood, storm, or mold outbreak, call 1-888-277-8280.

')