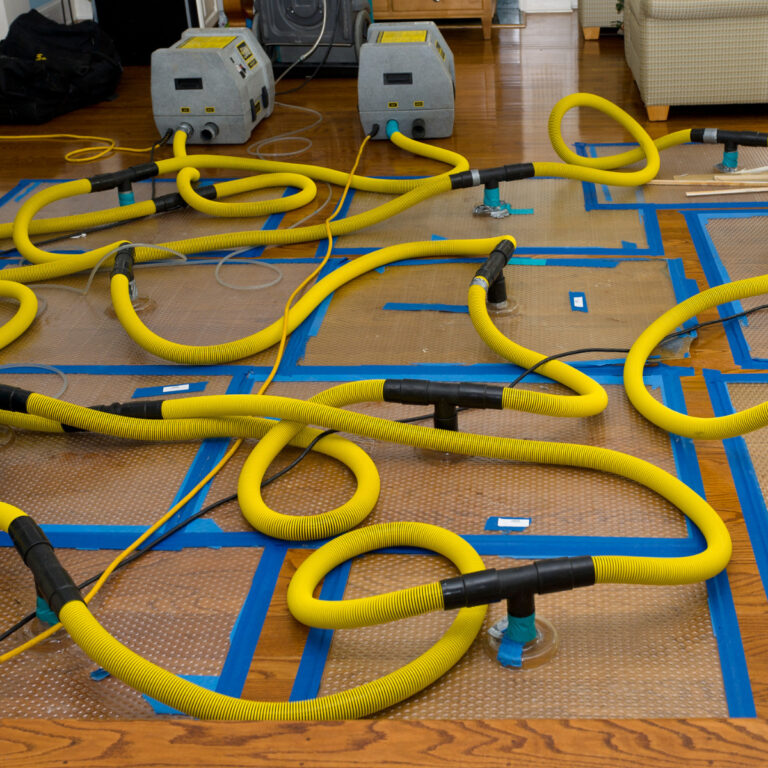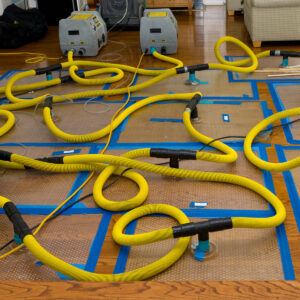 An unexpected water loss at a home or business can be overwhelming. It's hard to understand what to do – or who to call – when gallons of water are pouring into a building. It's important to act quickly in the event of a water emergency to prevent extensive damages. Standing water can cause structural issues and also lead to bacterial mold growth, so start the water damage restoration process immediately.
For large water losses, a professional restoration company is trained in the water damage restoration process. Using specific processes and equipment, the process can save you thousands of dollars in long-term damages, and get your home or business restored quickly and efficiently.
Water Damage Tips Until Help Arrives
If the amount of water flooding into your home or building is more than you can remove yourself, you should immediately call a water damage emergency company for help. As you wait for their crew to arrive to begin the water extraction process, there are certain steps to take to help minimize damages including:
In the case of a burst pipe, shut off water valve leading to the area
For small amounts of water, mop or use a wet-dry vacuum in the area to remove standing water
Set up fans near the affected area to encourage the drying process
Wipe water from furniture to prevent water damage
Place a piece of foil between furniture and wet carpeting
For a water loss during the summer, turn on the AC for maximum drying
As much as possible, remove objects such as decorations and small furniture from the floor
Again, it's important to take quick action when a water loss occurs.
Learn About Our Water Damage Restoration Services
Restoration Company Water Damage Remediation Process
Professional, trained emergency restoration companies are trained in water extraction services, water mitigation, and structural reconstruction. The complex process is done in several steps beginning with inspection and assessment and finishing with restoration.
The step-by-step process includes:
Inspection and damage assessment: the first step after a water loss, whether due to a burst pipe or natural disaster, is to completely inspect the property for safety issues and initial damages. Excess water can create hazards, especially in areas with electric panels. A restoration company knows what hazards and damages to look for and can quickly assess the situation and develop a strategy for water removal and damage repair.
Water extraction/removal: After a plan has been put in place, the water extraction process begins. This step helps remove water from your home or office quickly. Water removal equipment such as extraction units, portable flood pumps, and high-volume water vacuums are used by commercial and residential water restoration companies to remove water quickly and efficiently.
Drying and dehumidification: After the excess water has been removed from a space, the restoration team will begin the drying and dehumidification process. This is a critical step to protect your home or business in the future, as moisture can lead to mold infestation and bacterial growth. Air movers and desiccant dehumidifiers are great tools to dry and dehumidify a space.
Sanitizing, cleaning, and odor removal: After the space is dry, the next step is to clean, sanitize and deodorize the walls, floors, and personal objects. Floodwater can contain harmful microbes and likely will cause an unpleasant odor. The emergency restoration team will use eco-friendly and safe cleaners and sanitizers on all objects. For personal items with a tough odor, some companies offer an odor removal service to help save important items.
Restoration or reconstruction: For severely damaged homes or offices, the final step is reconstruction. During this phase, damaged drywall may be repaired or replaced and new carpeting may be installed. Other repair work during this phase can include the installation of new cabinets, plumbing, lighting, and other fixtures.
Reynolds Restoration Services Water Damage Remediation
Reynolds Restoration Services is an independently owned and operated professional emergency services restoration company. With more than 15 years of experience in water damage, water mitigation, and water extraction services, our team has helped thousands of home and business owners repair their properties after a water loss. Our team has the equipment, resources, and training to remove excess water, dry and dehumidify a building, and reconstruct a space to its pre-loss condition.

While we hope you never need us, our team is on-call 24/7 to respond to a water emergency. Let us help you navigate the process of cleaning up after a water loss. Reach out today at 888-277-8280 if you need our help. Our teams in Harrisburg, PA, Philadelphia, PA, and Baltimore, MD can be on-site quickly.

')