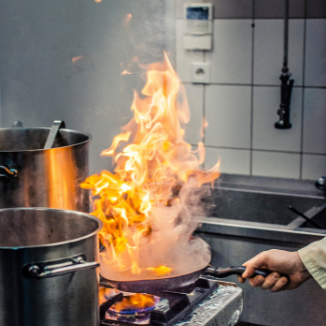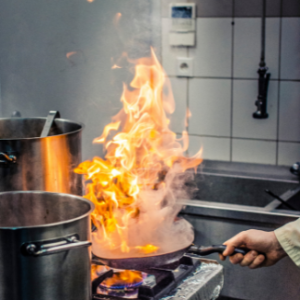 According to the National Fire Protection Association (NFPA), there is an average of 7,410 commercial kitchen fires each year. Many of the fires are caused by cooking equipment, and others are caused by faulty wiring or unattended open flames.
A restaurant fire can quickly turn into a disaster. Commercial kitchen fires can be especially hard to contain and extinguish, especially with kitchen staff running back and forth, hot equipment such as fryers and griddles in close proximity, and flammable products such as oil in use.
Fires can cause thousands of dollars in property damage and can close a restaurant for weeks – or permanently – if not caught early. The best way to stop a kitchen fire is to prevent it from occurring altogether.
Here are a few commercial kitchen fire safety tips:
How to Prevent Kitchen Fires
Most commercial kitchens have the necessary tools to extinguish a fire, but there are several things business owners can do to stop them from starting in the first place. If you run a kitchen, here are several ways to stop a fire in its tracks:
Make Safety a Priority: Safety is everyone's responsibility, so be sure to educate and regularly train both your front-of-house and kitchen staff on how to identify and fix fire hazards, what to do in case a fire happens, and know the evacuation plan in case a fire occurs. When the entire team has safety in mind, the risk of a fire is minimized.
Keep Kitchen Tidy: This is a rule for both residential and commercial kitchens – keep your workspaces clean and tidy. Many kitchen fires are caused when a flammable item such as a towel or food container is accidentally ignited by an open flame. Additionally, cooking oil and grease should be stored away from cooking equipment to avoid a large-scale grease fire.
Inspect and Maintain Equipment: Faulty electrical wiring is the second leading cause of kitchen fires after cooking equipment. Check all wires and cords to make sure they are not frayed or spliced. If you spot an item that is not functioning properly, immediately unplug the device and have it repaired or replaced by a professional. Exhaust systems should be regularly inspected as well to make sure they are working properly.
Install an Automatic Fire Suppression System: An automatic fire suppression system is practically having a firefighter on call. The systems are designed to automatically dispense fire extinguishing chemicals to diffuse flames and shut down the fuel or electrical supply to nearby equipment. Systems should be installed by a professional company and serviced regularly to ensure proper use.
Invest in a Class K Fire Extinguisher: It's always good to have a backup plan. Restaurants should have a class K fire extinguisher on hand and in a place easily accessible by kitchen staff. Class K extinguishers are specifically designed for fires involving combustible cooking fluids and must be used only after a fire suppression system is activated. These fire extinguishers are different than Class ABC extinguishers which are designed for other types of fires.
Common Causes of Kitchen Fires
Commercial kitchens have a greater risk for fires than residential kitchens because of the volume of food being prepared and the amount of equipment. Common causes of restaurant kitchen fires are:
Cooking Oil and Grease Traps: Cooking oil and grease traps are the number one cause of kitchen fires. Excessive oil or a clogged grease trap can quickly catch fire near open flames.
Clogged Exhaust Hood Filters: The main purpose of exhaust hoods is to get rid of extra smoke, grease, and gas. If the hood filters are not cleaned regularly, the grease caught in the filter can cause a flash fire.
Gas Leaks: Gas leaks and the resulting fire may arguably be the most damaging types of emergencies at a restaurant. There is not only a high risk of extensive property damage but also a risk to the health and safety of the restaurant occupants.
Electrical Wiring: Electrical fires start when faulty wiring, plugs, or sockets spark and project heat or a flame onto a nearby surface. According to the NFPA, electrical issues account for 21% of all restaurant fires.
Commercial Fire Damage Restoration
At Reynolds Restoration Services, we know the damage a fire can cause at a commercial property. A fire can quickly spread throughout a building causing thousands, if not hundreds of thousands, of dollars in damages. For more than 15 years our team of trained fire mitigation and restoration professionals have been helping business owners restore their property to its pre-loss condition after a fire.

While we hope you don't need our services, our team is on-call 24/7 in the Harrisburg, PA, Philadelphia, PA, and Baltimore/DC Metro regions. We can be on-site quickly to help you start rebuilding.

')