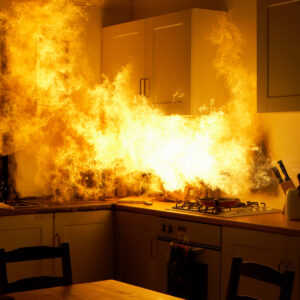 House fires can be extremely terrifying and damaging, especially if they involve grease. While it's impossible to prevent all types of fire incidents in the home, there are a few steps you can take to reduce your risk. One of the easiest ways to prevent a grease fire is by keeping up with regular kitchen cleanings and getting rid of oil residue before it becomes hazardous.
Let's take a look at important tips on how to recognize signs of potential danger and grease fire prevention; how to safely extinguish a grease fire; and methods for preventing grease-related fires in your home.
Grease Fire Prevention
Grease fires are one of the most dangerous types of residential fires and can be difficult to put out. By taking the proper preventive measures, grease fires can be avoided altogether. In addition to following standard kitchen safety practices, here are tips and ways to prevent a grease fire:
Clean your stovetop, fans, and air filters clean. Over time, grease and oil can build up and leave a residue on your stove, exhaust fans, and air filters. Get in the habit of cleaning these after every time you cook. Have your ductwork cleaned on a regular basis.
Never leave a stove unattended. Grease fires occur in a matter of seconds. When the grease gets too hot, it will smoke, burn, and then catch fire. Stay near the stove until you are done cooking and your pots and pans are cooled to a safe temperature.
Use care when adding food to hot grease. Grease splatters easily, especially when you add food items. Add food gently and make sure to drain any moisture from the food. Avoid putting frozen food into hot oil – this can quickly start a grease fire.
Keep an eye on the oil temperature. Grease fires happen when the cooking oil is too hot. Oils will boil, then smoke, and then catch fire. If you notice your oil is beg6inning to smoke, turn down the heat.
Even with the best intentions, a grease fire can still happen. Perhaps the oil got too hot or there was excess moisture in your food. Grease fires are dangerous and knowing how to put out a grease fire can help prevent serious fire damage and injuries.
How to Extinguish a Grease Fire
When cooking with grease or oil, make sure to keep a fire extinguisher nearby in case a fire does break out. Remember the PASS acronym when using an extinguisher – Pull, Aim, Squeeze, and Sweep.
Pull the pin
Aim at the base of the fire
Squeeze the trigger
Sweep side to side
Don't have a fire extinguisher on hand? Here are other tips to put out a grease fire:
Turn off the burner but DO NOT move the pan. You may be tempted to move the pan outside, however, the grease will likely spill causing the fire to spread to other parts of your kitchen.
Remove the oxygen from the fire. Cover the pot or pan with a metal lid or even a baking sheet.
Douse the fire with baking soda or salt. Add large amounts of salt or baking powder to the top of the fire. Do NOT use flour or baking powder – these will make the fire worse.
Remember – NEVER use water to try to put out a grease fire. When you throw water on a grease fire, the burning grease can splash and spread quickly. For larger grease fires that cannot be put out with an extinguisher and have spread from the stove, do not attempt to fight the fire and instead call 911.
How to Clean Up a Grease Fire
Grease fires can be incredibly dangerous and scary to experience, but the good news is that cleaning up after them doesn't have to add to your stress. The best way to clean grease fires up is to make sure you completely remove any traces of grease, smoke, or debris left by the accident. Make sure all surfaces are wiped down so that combustible materials – grease and food particles for example  –  aren't left on any heat conductors.
To remove soot and smoke, use a sponge or cloth to apply a mixture of vinegar and water to the affected area. Dab the area gently and rinse and repeat as needed. Properly ventilate the area to get rid of any lingering smoke odor. Unfortunately, some odors may be hard to remove without using professional-grade equipment and products. In this case, work with a trusted emergency restoration services company.
Fire and Smoke Damage Restoration Services
At Reynolds Restoration Services, we've seen the devastating consequences of grease fires. Grease fires spread quickly and in mere minutes, can spread throughout an entire home. If you or a loved one has experienced a grease fire, we are here to help.

For nearly two decades our team of trained fire mitigation and restoration professionals has been helping homeowners after a fire. With three offices in the Mid-Atlantic region – Harrisburg, PA, Philadelphia, PA, and Baltimore/DC Metro area – we can be on site quickly to help after a grease fire or other emergency.

Not only is our team experienced and trained in smoke and fire remediation and restoration, they are also compassionate and understanding of your situation. We take on each project as if it were our own home and respond and rebuild with care.

We are on call 24/7 to assist. Call us at our 24-hour emergency hotline at 1.888.277.8280 for prompt service. While we hope you don't need us, we are here for you.

')