It is one of the most emotionally and financially devastating events a homeowner and their family members can experience – a house fire. In a matter of minutes, your entire home, along with everything inside it, can be entirely destroyed. After such an unimaginable loss, you may find yourself feeling overwhelmed and unsure of where to turn for help or at a loss for how to start the daunting task of the clean up and restoration process.
One of the main sources of stress after a house fire is the uncertainty. You may be wondering how you'll replace the things you've lost or how long it will take to repair the damage. Losing a home and most of what you own can also make you feel unsafe and vulnerable, making it difficult to sleep, eat or focus on day-to-day tasks. The emotional pain of a house fire can be overwhelming, and it's essential to remember that it's perfectly normal to feel devastated, anxious, angry, scared, and all the other emotions that come with such a loss.
The cleanup process can also add up to the anxiety and stress levels of a homeowner. The process will involve letting go of items that have great sentimental value and cannot be replaced, dealing with insurance companies, and contractors and perhaps finding temporary new accommodation.
It's essential to understand that healing and recovering from a house fire takes time. You may feel like you're grieving for a while, and that's normal. It's crucial to reach out to the people you trust and obtain their support. Consider seeking out mental health counseling or talking with other people who have experienced a house fire as they may offer you perspective and a sense of solidarity.
To help you during this distressing experience, we've put together a guide on what to do after a house fire. Hopefully, you'll never have to use it, but if you do, you'll be able to navigate this difficult time with confidence.
What to Do After a House Fire Checklist
No one wants to ever experience the trauma and disruption that comes with a house fire, but unfortunately, it happens far too often. If you've recently experienced a house fire, we understand how devastating it can be; however, there are steps that you should take in the aftermath of a fire to help make this difficult time more bearable.
The first things to do after a house fire are as follows: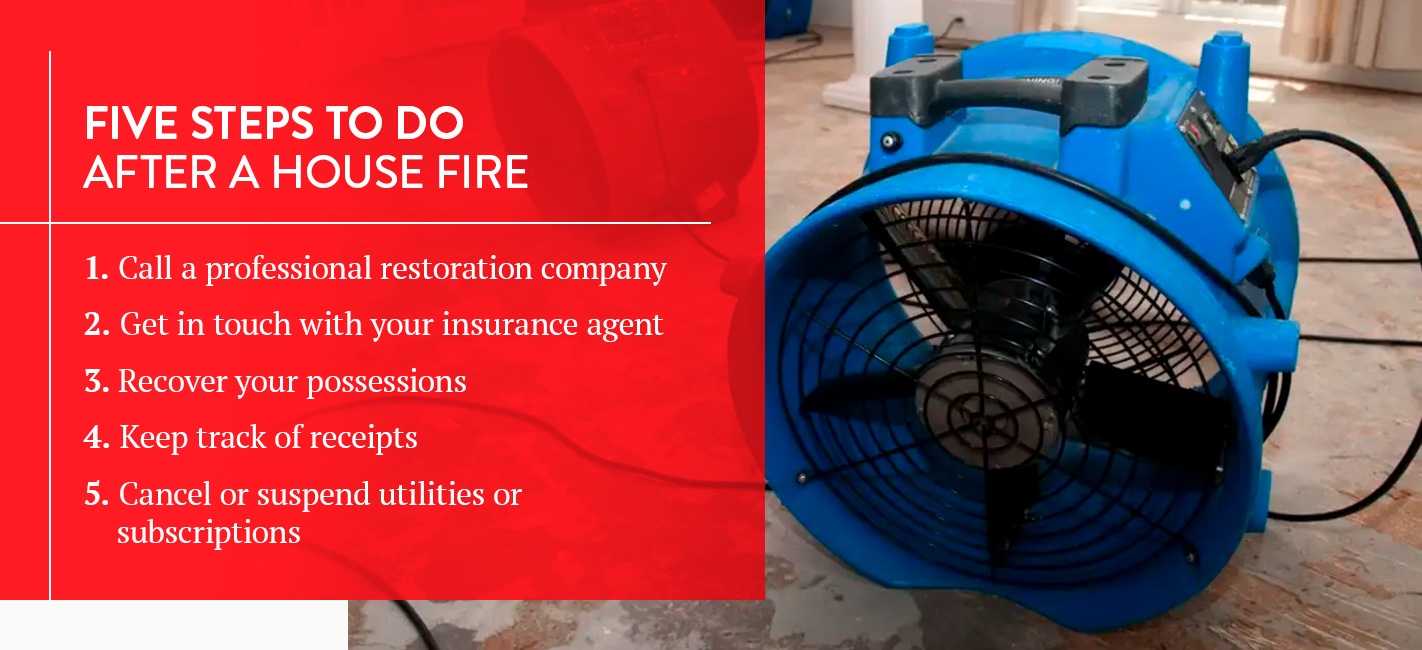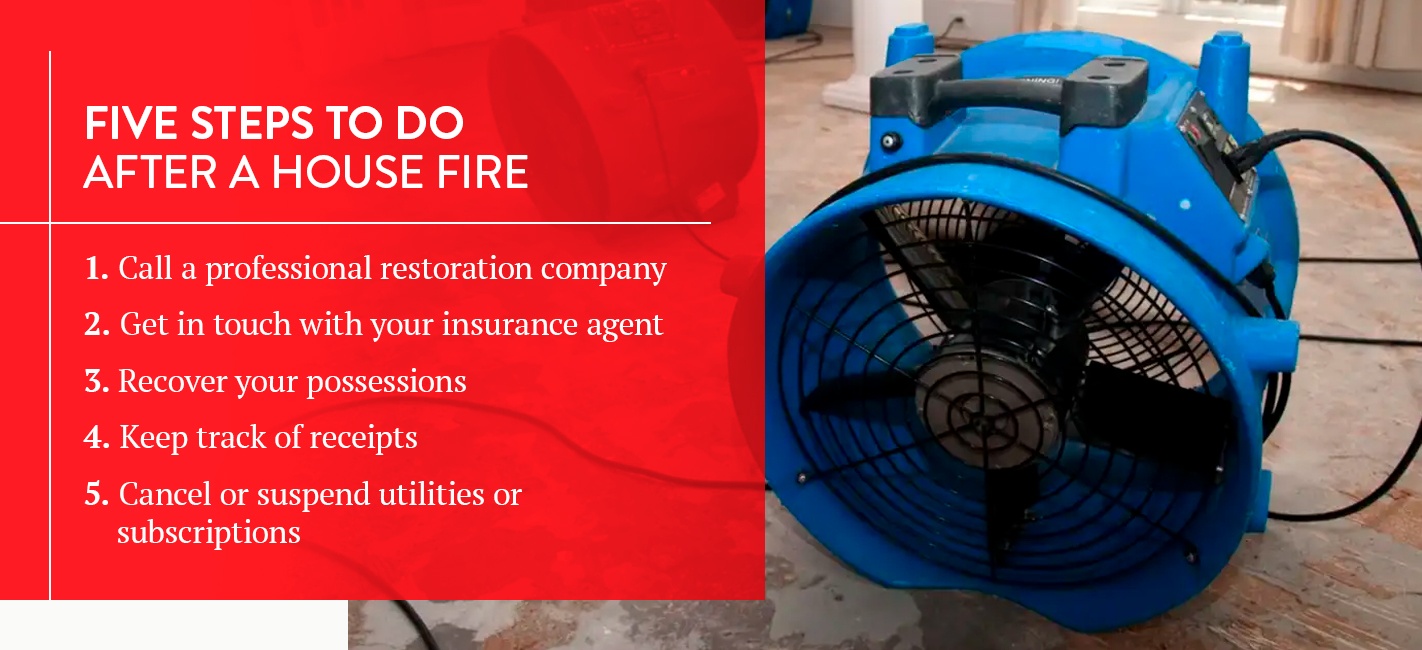 Call a professional restoration company: Once the fire is extinguished by the fire department, call a restoration company like Reynolds Restoration Services. Restoration professionals can help you through the recovery and restoration process and can suggest the next steps based on the severity of the fire. Reynolds Restoration Services is available 24/7 to respond. For safety reasons, only enter the home with the Fire Marshall or Reynolds Restoration Services until the property is cleared for entrance.
Get in touch with your homeowners' insurance company: This is another one of the most important first steps to do after a house fire. Contact your insurance company and get a claim number and a possible day and time that a claims representative can visit the property. Be careful authorizing someone to represent your claim — such as a Public Adjuster — until you have spoken with your agent. Have Reynolds Restoration present when the adjuster arrives to walk the property.If you don't have insurance coverage, you can't file a claim or have your possessions replaced, but you may be eligible for charities, benefits, or programs. For example, disaster relief agencies such as the American Red Cross offer several useful resources to help you stay safe after a fire as well as tools to find shelters and emergency lodging near you.
Recover your possessions: Reynolds Restoration will take inventory of your damaged personal property. This will help create a detailed list of what was lost in the fire for your insurance agent. The team will create an inventoried list of damaged items with the purchase price, brand, serial number, replacement cost, and any other information that could determine the value of the loss. Once the items are cataloged, Reynolds Restoration Services can provide content cleaning and odor mitigation for your personal items that may have been damaged.
Keep track of receipts: Keep track of all receipts for meals, temporary housing, toiletries, clothing, and any other "out of the ordinary" living expenses you may incur. Your insurance carrier may reimburse these expenses. Receipts are critical to ensure you can be reimbursed.
Cancel or suspend utilities or subscriptions: Cancel or suspend utilities and subscriptions such as electric, water, cable, internet, and even mail if you will not be living in the home during reconstruction. Oftentimes, emergency responders will shut off utilities during a fire. If you need to have the utilities turned back on, be sure to check with the fire department before doing so as electricity may reignite a fire.
Learn About Our Fire Damage Restoration Services
Emergency and Mitigation
Just because the fire has been extinguished doesn't mean that your house won't suffer any more damage. Once the fire department says it's safe to enter your home, you should complete the following steps: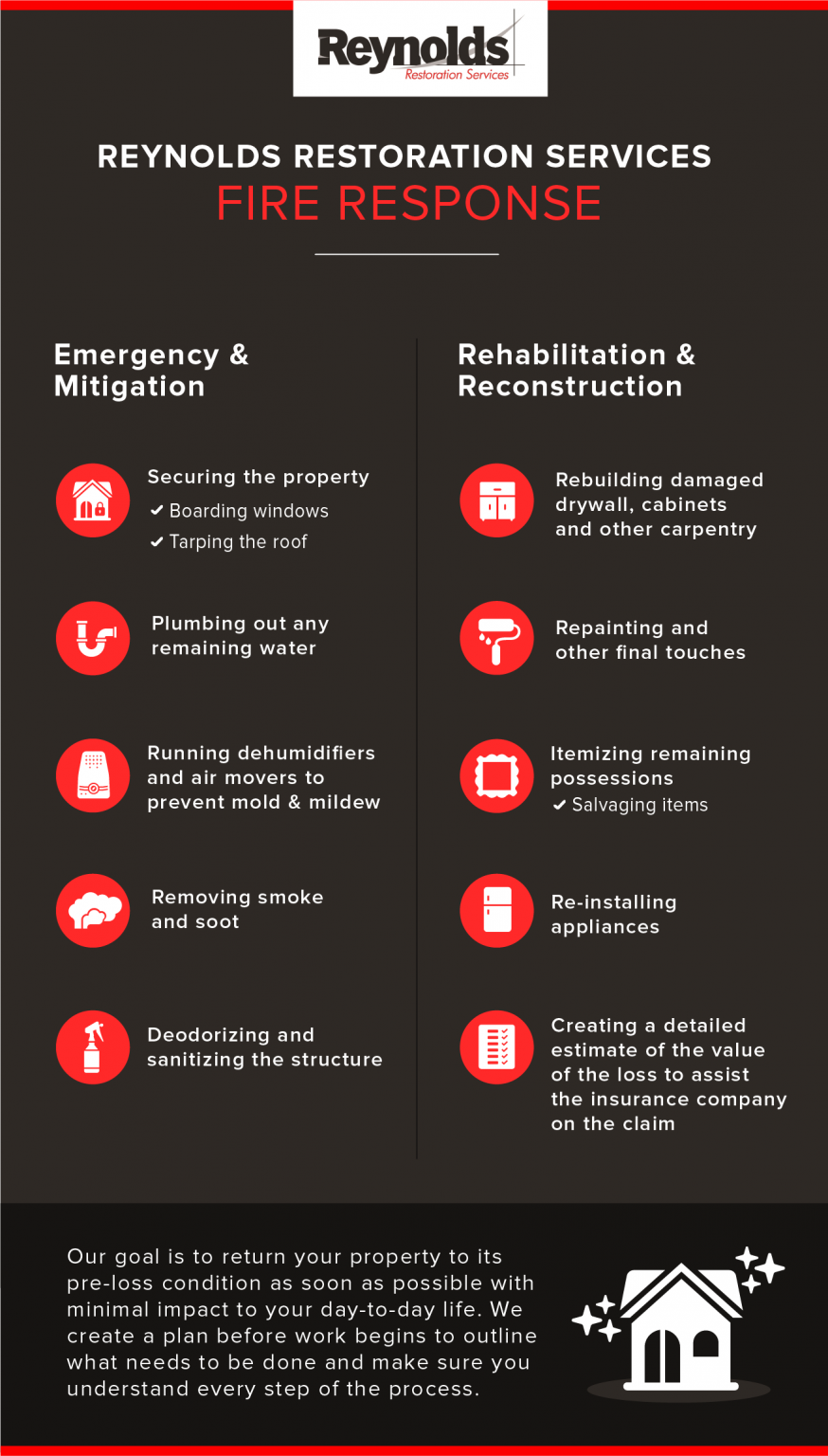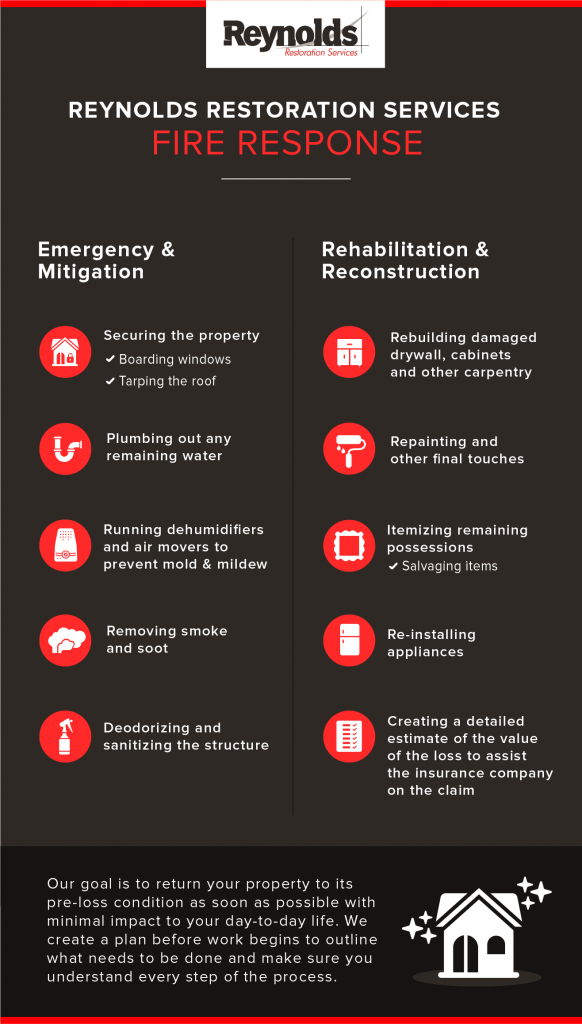 Secure the property: While your homeowner's policy will cover the damage caused by the fire, once the fire has been put out, any new damage may not be covered. For this reason, you must protect your home from theft, vandalism, and inclement weather as soon as possible. To do this, board up all openings and make sure you can lock and secure all outside doors that survived the fire. If you're planning to leave your property, remove all the valuables you can from your home.
Plumb out any remaining water: If you're planning to move out of your house temporarily, you should also shut off the water since an issue could go easily unnoticed while you're gone. If it's wintertime, you should also drain your pipes to prevent them from freezing and bursting. To do this, shut your water off, then let your faucets run until no more water comes out. When you move back in and turn the water back on, run all faucets for five minutes to clear the lines.
Run dehumidifiers and air movers: When you think of a house fire, "water damage" probably isn't one of the first things that come to mind. However, fires can lead to water issues for several reasons, including the water used to put out the fire or if the fire damages the plumbing system. A fire damage mitigation crew will bring in special equipment, such as commercial dehumidifiers and air movers, to help you dry out humidity and water residue. This will help to prevent any more damage to your house.
Remove soot and smoke damage: Soot residue is another thing that can cause more damage to your house. Soot has acidic, corrosive properties that will further damage your property, which is why the soot needs to be removed as soon as possible. Removing it will reduce the chance of it damaging your surfaces, improve the air quality in your home and reduce odors. You can remove the soot in many ways, including vacuuming, sweeping and wiping down.
Deodorize and sanitize the structure: Before deodorizing and sanitizing your home, you should first decide which items are salvageable and which you should replace. For deodorizing and cleaning, the cleaning products used will depend on what the item is and how much mold, mildew, and smoke damage has penetrated its surface. It's best to leave this cleaning process to a professional. To absorb the odors in the air, try placing small saucers of vanilla, vinegar or activated charcoal all over the house.
Rehabilitation and Reconstruction
Once you've cleaned up your property and secured it from further damage, you can focus on rebuilding damaged areas and replacing lost items. Here are some tips to help you repair your home and replace your possessions:
Rebuild damaged drywall, cabinets, and other carpentry: Drywall and wood fixtures like cabinets are easily destroyed during a fire, meaning you'll probably have to replace a good deal of it.
Repaint and add other final touches: Once you've replaced the drywall and other fixtures, you can polish, paint, stain, and do any other needed final touches to restore your home to its former glory.
Re-install appliances: Remove damaged appliances and replace them with new ones. Hold on to the old damaged appliances so you can add them to your list for your insurance claim.
Create a detailed estimate of your losses: Make a list of damaged possessions as a part of your insurance claim, which will help your insurance company reimburse you for your losses. Look over your policy to know which items you should list. To itemize personal possessions after a house fire, start by creating a list of all the items in each room of your house. Be thorough and include everything from furniture to clothing to electronics. Use photos, receipts, or any other documentation that can help you remember the details of your belongings. Be sure to note the condition of each item, whether it's destroyed, partially damaged, or untouched by the fire.Next, categorize your list into "salvageable" and "non-salvageable" items. Salvageable items are those that can be repaired, cleaned, or restored. Non-salvageable items are those that are too damaged to be saved.Once you've categorized your list, assess the value of your belongings. Do some research to determine the replacement cost of each item, whether it's by looking at prices online or getting an appraisal.Note, whenever possible, include the serial number and approximate replacement cost of each item. Taking photos or videos of damaged furnishing and rooms is also helpful. Once you're finished, speak with your insurance company about how to submit the form.
Contact Reynolds Restoration for Emergency Fire Damage Restoration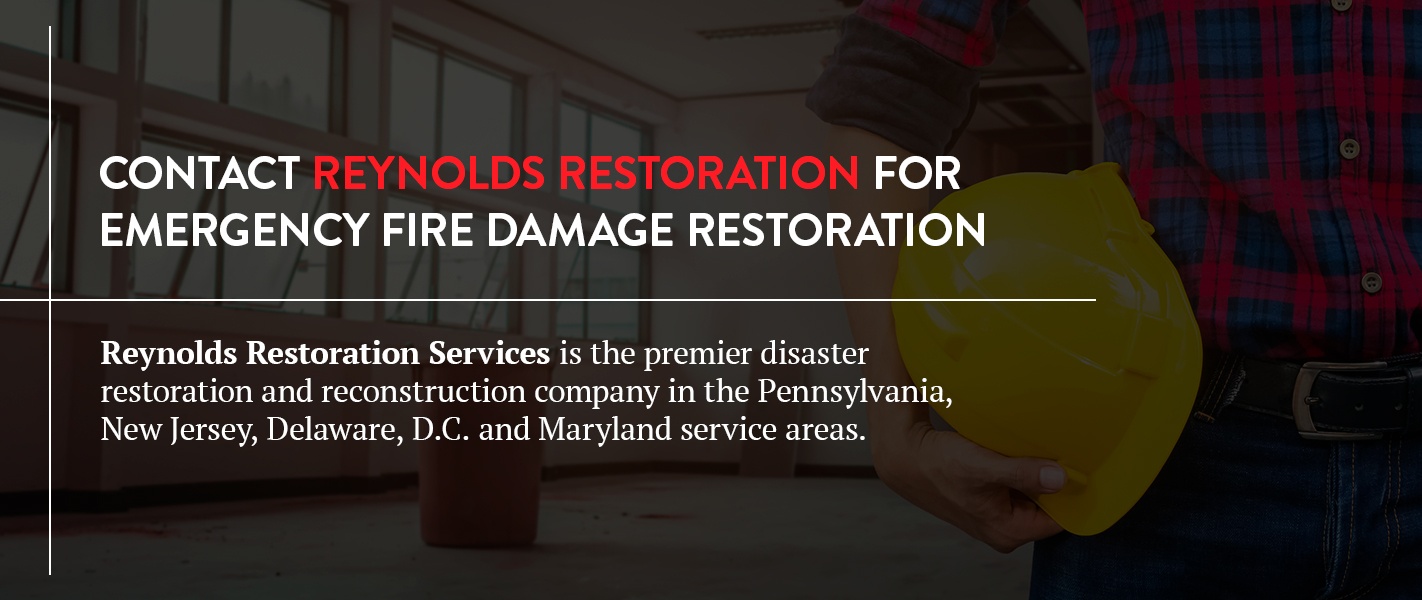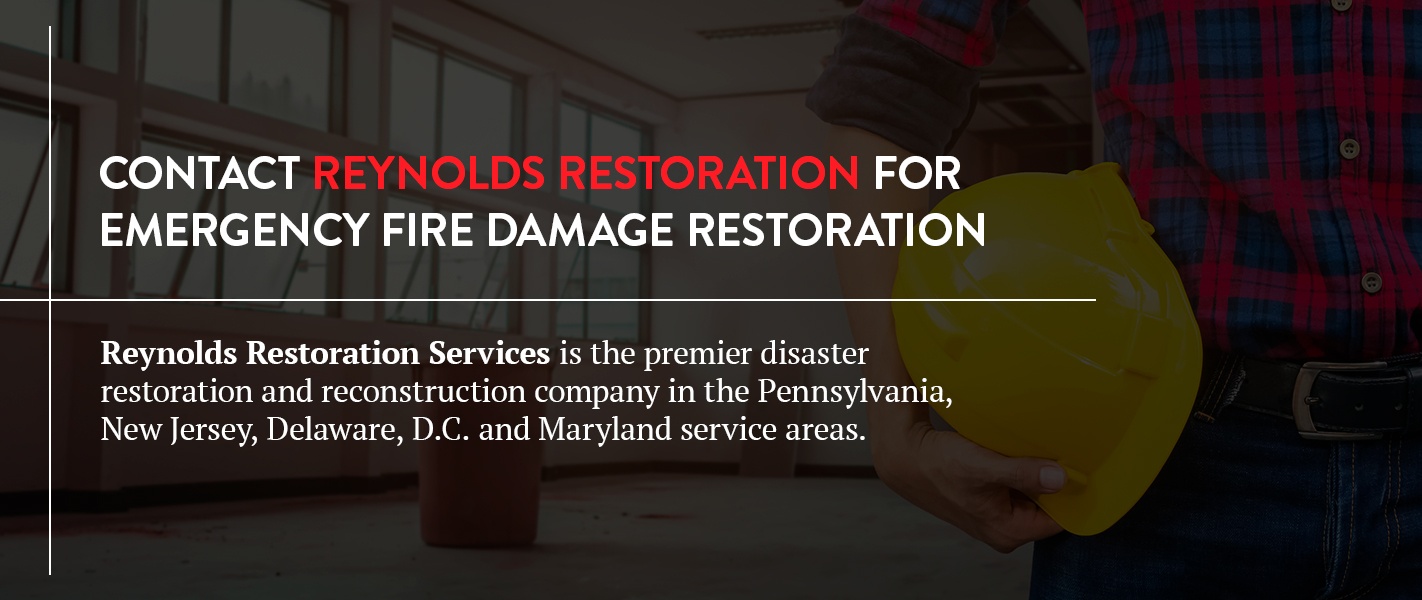 Reynolds Restoration Services is the premier disaster reconstruction and restoration company in the Harrisburg, PA, Philadelphia, PA, New Jersey, Delaware, D.C., and Baltimore, Maryland service areas. Our qualified and dedicated staff are on call 24/7 to respond to fire, smoke, water, mold and wind damage. With over 18 years of experience in the emergency restoration industry, Reynolds Restoration Services can help you return your property to pre-loss condition.


')