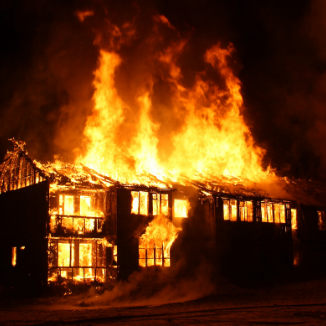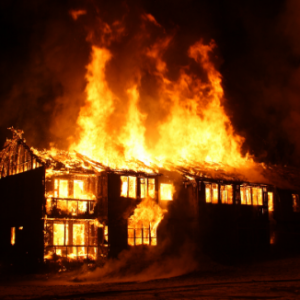 According to the National Fire Protection Association, every 24 seconds a fire department in the United States is called out to respond to a fire. In 2019, fires caused more than $14.8 billion in property damages.
While scary, most house fires are preventable. The first step in fire prevention is understanding what causes home fires and where fires occur.
Common Causes of House Fires
Cooking: It shouldn't be a surprise that the kitchen is the most common spot that fires start. Fire safety is critical in a kitchen. Keep your cooking area tidy and free from flammable liquids, and always have a fire extinguisher easily accessible to put out cooking fires. Grease fires can quickly spread, so know how to put out a grease fire safely. Never throw water on a grease fire! Water and oil do not mix well and can cause the fire to spread quickly. Cover the grease fire with a lid or pour baking soda or salt on the fire.
Candles: Unattended candles are a prime source of house fires and are easily preventable. Never leave candles lit in an unoccupied room.
Christmas Trees: While live Christmas trees are beautiful, they can catch fire if not properly set up and taken care of. If you have a live Christmas tree in your home, be sure to trim off about an inch from the bottom of the tree so it can absorb water easily. Trim away any dead branches, too. Regularly water the tree to prevent a house fire.
Space Heaters: Space heaters are a good heat source in the cooler months, but can be a risk for a fire. Space heaters should be operated according to the manufacturer's instructions. Keep space heaters away from flammable objects and never leave them unattended.
Smoking: Lit cigarettes and cigars are still one of the main causes of house fires. If someone in your household smokes, the safest place for them to smoke is outside. Unattended cigarettes in sleeping areas are especially dangerous.
Electric Appliances and Faulty Wiring: All appliances can cause fires if they have faulty wiring or are used improperly. Regularly inspect your appliances to make sure they are in good shape and are not a risk for an electric fire. Old wiring in a house is also a culprit for fires. If you suspect your electric wiring is old and needs to be updated, have an electrician inspect your home for risks.
Fire Prevention for Homeowners
Fire prevention should be a top priority for homeowners. Keeping your family and your possessions safe from fire takes planning and preparation but can save lives. Make sure you have a fire plan in place. Top tips for fire prevention include:
Install smoke alarms on every level of your house as well as inside and outside sleeping areas. Test them every month and make sure they are working properly. Change the batteries regularly.
Make sure you have a fire extinguisher in your house, especially in the kitchen. Know how to use the fire extinguisher. Read the instructions before a fire occurs so you are familiar with how it works.
Talk to your family about a fire escape plan. What will you do if a fire occurs in your home? How will each member safely leave the house? Practice the plan at least twice a year.
Learn About Our Fire Damage Restoration Services
Help After a Fire
Even with precautions and prevention, you may still experience a house fire at some point. While we hope you never need our services, Reynolds Restoration Services is here to help after a house fire.
Our team of emergency fire restoration and remediation professionals have more than 15 years of experience helping homeowners in Harrisburg, PA, Philadelphia, PA, and the Baltimore/DC Metro area restore their property to its pre-loss condition after a fire. We are on call 24/7/365 and are here if you need us. Learn more about our fire restoration services.