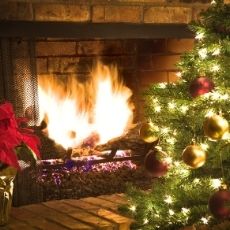 The holidays are a wonderful time of year! From festive decorations to gathering around the table, the season brings happiness, cherished memories, and cheer to many families. Chances are your holiday traditions include a warm fire in the fireplace, or twinkling lights on a tree, or a day of cooking in the kitchen.
Some holiday traditions, though, increase the risk of fire. As you settle into the holiday season, be sure your celebrations are both happy and safe by following these tips to avoid holiday fire hazards.
Holiday Cooking 
Without a doubt, the kitchen gets a workout during the winter holidays. According to the National Fire Protection Agency (NFPA), fire departments responded to an average of 172,900 house fires a year that started in the kitchen. As you are preparing your holiday feasts, keep the following in mind:
Never leave a stove unattended. Sauces can boil over and spill on open flames or electric ranges and can easily cause a fire.
Keep items like kitchen towels and grocery bags away from the stove. In a matter of seconds, they can catch fire and cause an emergency.
Children make great helpers for cookie baking and meal preparation, however, it's never a good idea to have them alone in the kitchen. Be sure your little ones are always supervised.
Be sure to have a working fire extinguisher that is easily accessible in the kitchen. A portable fire extinguisher can put out a small fire and minimize damages to your home.
Staying Warming 
As temperatures dip in December, fireplaces, space heaters, and other heat sources are often utilized to create a cozy, holiday atmosphere. According to the NFPA, heating equipment is the second leading cause of home fires in a year. Home heating safety practices include:
Prior to the first fire in a fireplace in the winter, have your fireplace and chimney inspected for safety. Soot from the previous season may have built up and can increase the risk of a fire if not removed. Always use a protective screen when enjoying a fire.
If using a space heater, never leave it unattended. Space heaters should be placed away from flammable items and follow the 3 feet rule from the Consumer Product Safety Commission. If utilizing an extension cord with a space heater, make sure it is compatible with the space heater you are using to minimize any electrical hazards.
Christmas Trees
Christmas trees are often the focal point for many families during the holidays. Although uncommon, tree fires can quickly burn out of control, especially on live trees. If you celebrate Christmas and have a tree in your home, use the following safety measures to minimize holiday fire hazards:
For live trees, be sure to water it every day so it retains moisture. Cut off 2 inches from the base of the trunk before placing it in the stand so it can easily absorb water.
A dry Christmas tree can go up in flames quickly!
Make sure your Christmas tree is at least three feet away from any heat sources or open flames. Heat sources too close to trees causes nearly 25% of all tree fires.
Menorah or Kinara
For families that celebrate Hanukah or Kwanza, lit candles in a menorah or kinara are a beautiful tradition. Open flames on candles, however, can increase the risk of fires started in a home. If you are using candles for a holiday celebration, be sure to be safe and following these guidelines:
Keep all lit candles at least one foot from flammable items such as furniture, cloth, and other holiday decor.
LED candles can be a safe, beautiful alternative to real candles. Many companies now make LED options for celebrations.
These safety tips are designed to help you minimize holiday fire hazards during the winter. As always, be safe and smart about cooking, decorating, and heating your home.
Learn About Our Fire Damage Restoration Services
Happy Holidays from Reynolds Restoration Services
The team at Reynolds Restoration Services wishes you a safe, happy, and healthy holiday season! While we hope you won't need our services, our team is here 24/7 to help with fire, flood, storm, and related emergency restoration.

')