Has your home or business ever been damaged by a fire or flood or another disaster? Have you had a frozen pipe burst and water poured into a finished room in your house? Have you had a mold infestation and not known what to do? If you've suffered a loss due to any of these events, you've probably asked "should I hire a restoration company?".
For most home and business owners, the first thought after a loss is "how fast can I clean up the mess and restore the building to usable or livable conditions?" The answer really depends on how you approach the loss and what next steps you take. For some losses, you may be able to clean and restore your property yourself, but for others, you may want to hire a restoration company.
Before we detail the reasons to consider hiring a professional to assist you, what is a restoration company anyway?
What Is a Restoration Company?
Professional emergency restoration companies and contractors like Reynolds Restoration Services are trained to respond to emergencies caused by fire, flood, water, or mold damage. Reputable restoration contractors are specifically trained, licensed, or certified to perform restoration services.
A professional restoration company can prepare detailed estimates of damages and even more, has experience communicating with and working with insurance companies. Restoration companies like Reynold Restoration Services are different from general contractors. General contractors are ideal for cosmetic repairs such as drywall or flooring. A restoration contractor can help you at the time of emergency and quickly mitigate further structural and long-term damages.
Trustworthy restorations companies also invest in the education and training of their technicians. Organizations such as the Institute of Inspection Cleaning and Restoration Certification (IICRC) offer restoration certification such as Water Restoration Training (WRT) and Fire and Smoke Restoration Training (FSRT). Both certifications require hours of training and continuing education. 
Reasons to Hire a Restoration Company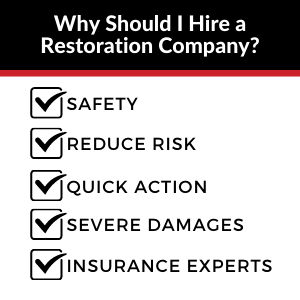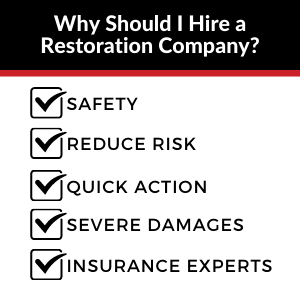 Although every situation is different, in the event a loss occurs, your first step is to contact your insurance company and file an insurance claim. Your agent can help guide you through the restoration and claims process. They may also have advice on the next steps in hiring a company like Reynolds Restoration Services.
Not sure if you need a restoration contractor to work on your home or business? Here are several reasons you should keep in mind when making a decision on hiring an area restoration company or trying to clean up the damage yourself.
Safety Concerns
In any emergency, it's essential to protect yourself and anyone else in your home or business from harm. If the loss makes the building unsafe, it's important to call a professional restoration company for help.
Emergency restoration companies use specific personal protective equipment (PPE) for each type of loss or emergency. For example, commercial grade masks are used to protect airways from any chemicals or other irritants.
Restoration contractors can also identify health and safety hazards that may otherwise go unnoticed including:
Damages to the structural integrity of a building
Black mold
Hazardous indoor air quality
Reducing Future Risk
While it may be tempting to paint over damaged drywall or complete other cosmetic improvements after a loss, you are potentially opening yourself up to future risk. Wet drywall that is merely painted over can turn into a mold problem – an even bigger headache – within weeks.
Furthermore, restoration contractors can help identify and remediate reasons for why the loss originally occurred. For example, in the case of burst pipes, the restoration contractor can recommend ways to avoid the loss in the future.
Quick Action
Being displaced because of an emergency such as a fire or flood can be frustrating. Emergency restoration contractors can work much quicker than if you were to do the work yourself and can get you back into your home or office in much less time.
If time is not on your side, engaging with a professional company can save you weeks of work and get you back to business in no time. Many companies offer 24/7 emergency service meaning your home or office is being addressed immediately.
Severe Damages
Severe damage is one of the best reasons to hire a restoration contractor. When a fire spreads quickly and causes fire, smoke and water damage, a restoration contractor is a better option than trying to it yourself.
In the case of a water loss greater than a few gallons of water, again, restoration contractors may be better suited to restore your home to its pre-loss condition. Water damage can quickly become a headache if left untreated.
Severe Fire Damages
Fire damage restoration can be difficult for a home or business owner to take on themselves, especially because it is critical the restoration response begins immediately. Restoration companies have the necessary tools, training, and expertise to be able to respond quickly and begin work immediately.Even homeowners or business owners who are well-versed in DIY home improvement projects may not have the training and expertise required for complex fire damage restoration.In addition to structural damages, large fires can also cause severe smoke and odor damage. DIY smoke and odor removal oftentimes only cover up odor rather than eliminating it. A restoration company can offer professional smoke and odor removal using the latest products and technologies specifically designed to attack stubborn odors.
Severe Flooding and Water Damage
Even a small water loss at a home or business can quickly turn into a large problem if not addressed quickly. The first 24 hours are crucial. Standing water can infiltrate flooring, carpeting and drywall and eventually cause bacterial growth or mold. Mold issues can become dangerous for building occupants, so a quick mitigation process is key.If you experience a flood or other water loss that is more than a few gallons of water, you should engage with a professional restoration company. Restoration companies have commercial-grade fans and desiccant dehumidifiers to speed up the drying process and lowering humidity in a space. These machines, which are important tools in the water remediation process, are not typically part of a homeowner's inventory.
Learn About Our Restoration Services
Insurance Expertise
As a home or business owner, you may only ever experience one major loss that requires you to file an insurance claim. Navigating the insurance claims process can be overwhelming, especially if you are unfamiliar with how it works. Restoration contractors have years of experience with insurance claims and know the ins and outs of how the process works.
Large losses in particular create piles of paperwork. Restoration firms can take the stress of dealing with the insurance company off of your shoulders and decrease the stress of the process.
Reynolds Restoration Services for Your Emergency
Reynolds Restoration Services has been helping home and business owners for more than 15 years. With offices in Baltimore, Harrisburg and Philadelphia, our certified and trained team can be on-site within hours of an emergency. We are on-call 24/7 and have the equipment needed to help restore your home or business to its pre-loss condition.

While we hope you don't need an emergency restoration services contractor like us, we are here when you need us. Contact us today!

')