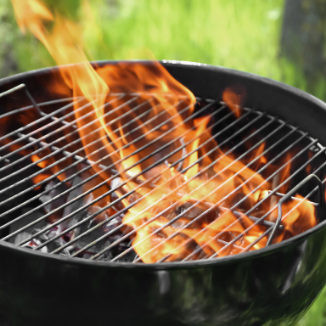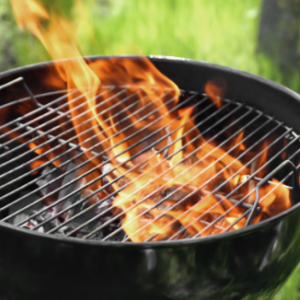 The warmer weather has finally arrived, and grilling season is here! Cookouts mean family, friends, and Summer fun. Before you fire up the charcoal or gas grill in the backyard, be sure you are taking the proper safety measures so your BBQ party doesn't end up with a house fire or a trip to the emergency room.
According to the National Fire Protection Association (NFPA), fire departments across the United States responded to an average of 10,600 home and outdoor fires caused by grills each year. These fires contributed to more than $149 million in direct property damage.
The good news is that most grilling fires are preventable by following a few safety tips.
Grilling Safety Tips
Both charcoal and gas grills can become fire hazards if not used properly. Always follow the manufacturer's instructions for the grill and keep the following fire safety tips in mind:
All propane and charcoal grills are designed for outdoor use only. Never use a grill inside, even in a garage. Charcoal grills give off carbon monoxide and can quickly cause a problem in a low ventilated area.
Grills should be placed well away from any structures including homes, sheds, patio or other outdoor furniture, and deck railings. They should also be out from underneath roof eaves and trees.
Always clean the grill after each use. Cooked foods can leave a greasy residue which can ignite easily causing a fire.
Never leave a grill unattended, even just for a minute. Have a fire extinguisher nearby in case of an unintended fire.
Grills should be placed on a stable surface. Wobbly grills can be tipped over. Consider using a grill pad or splatter mat underneath the grill to protect your deck or patio.
Be conservative with charcoal starter fluid for charcoal grills. Charcoal starter fluid is extremely flammable, and you don't need much to get the fire going. After use, move the fluid away from the grill completely to prevent it from accidentally catching fire. Keep other flammable liquids away from the area, too.
For gas grills, if the flame goes out, wait to re-ignite. Leave the grill lid open to allow the propane to dispense then turn on the gas and relight after 5 minutes.
Be prepared! Even by following the proper safety protocol for grilling, a fire still can happen. Be ready to put out a small fire if necessary. Have a home fire extinguisher or a rechargeable extinguisher on hand. If you don't have a fire extinguisher, keep a bucket of sand next to the grill.
What To Do When A Grill Fire Happens
If a fire breaks out when you are grilling, stay calm and take quick action to prevent the fire from spreading or becoming dangerous. Take the following steps to avoid a disaster:
If using a propane grill and you are safely able to, turn off the grill burners.
Remove any food on the grill, especially meat or other food that contains grease.
Close the grill cover to starve the fire from oxygen.
If the propane tank itself becomes part of the fire, leave the area immediately and call 911. The propane tank can explode causing injury. Also, call the fire department if you are unable to extinguish it yourself or it increases in intensity.
Never use water to extinguish a grease fire. Throwing water on a grease fire can make things much, much worse. The water droplets can splash and spread the oil making the fire bigger. Sand, baking soda (not powder), and kosher salt are all safe to use on a grease fire.
Reynolds Restoration Services Fire Damage Restoration
Even with proper prevention and safety, grill fires may happen over the Summer. While we hope you don't need us, we are here 24/7 to respond. Reynolds Restoration Services has been helping homeowners for more than 15 years restore their homes to their pre-loss condition after a fire.

Reynolds Restoration Services is the premier disaster restoration and reconstruction company in the Harrisburg, PA, Philadelphia, PA, New Jersey, Delaware, D.C., and Baltimore, Maryland service areas. Our qualified and dedicated staff can respond to fire, smoke, flood, storm, and mold damage quickly so you can get back into your home as soon as possible.

')