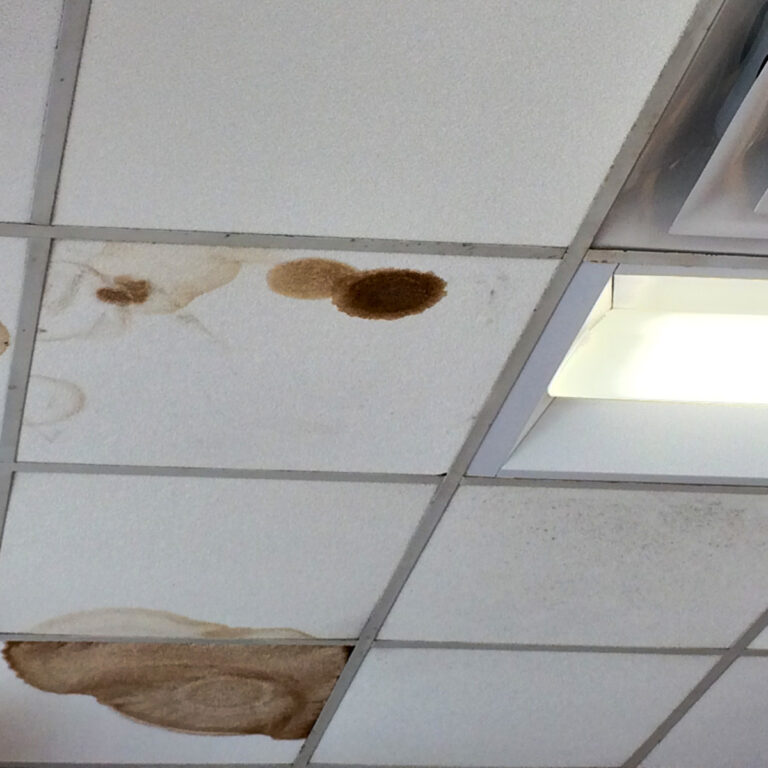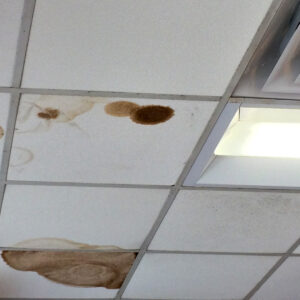 A leaking roof in a commercial building can be one of the most frustrating experiences for a property manager or building owner. Water damage from a roof leak can cause thousands of dollars in damages, lead to mold growth, and even displace building occupants if the damage is extensive. Even a small leak can cause structural damages over time if not addressed quickly.
Do you know how to repair water damage after a roof leak? Or even signs of a roof leak? Let's look at the causes of roof leaks in commercial buildings, what to look for, and review tips for repairing water damage from a roof leak at a commercial property.
Causes of an Office Building Roof Leak
There are many reasons an office or commercial building's roof can start to leak. Sometimes an act of mother nature can damage shingles and expose the roof to water, and other times roof leaks can be caused by aging.
The most common external causes of a leaking roof include:
Damaged flashing
Cracked or damaged vent booting
Ice dams
Damaged roof shingles
Clogged gutters
Damaged chimney
Worn or improperly applied sealants
No matter the cause of a roof leak, it's critical to identify the source of the leak and address water damages as quickly as possible. If left untreated, a small leak can lead to expensive structural damage and even toxic mold growth. One of the easiest ways to identify a leaking roof is to perform routine building inspections and keep an eye out for signs of a roof leak.
Signs of a Roof Leak
The most obvious sign of a leaky roof is of course visible or dripping water that is unrelated to the plumbing system. Water dripping from the light fixtures? Puddle of water in the middle of the room? These are clear-cut signs of a potential commercial roof leak.
Your building occupants, tenants, and even vendors may notice other signs of a roof leak including:
Stained Ceiling and Walls
When water penetrates the roof system, it may slowly drip on the backside of ceiling tiles and walls. Over time, the water will begin to discolor the ceiling tile and wall materials, especially drywall. If the roof penetration is near the wall, you may see water stains not only on the ceiling but on the wall itself.
Musty Smell
A foul smell inside of an office or other commercial building should be a red flag for a building owner. A strong, musty odor can indicate water has permeated the roof membrane and is beginning to lead to mold growth.
Mold Growth
Mold or mildew needs three things to survive – the right temperature, a food source (such as drywall, wood, or ceiling tiles), and moisture. If you see mold starting to grow in wall crevices, near light fixtures, and even on the floor near baseboards, a leaking roof may be the source of moisture. Mold can be toxic to building occupants and it's important to not only stop the leak with roof maintenance but also remediate the mold as soon as possible.
Bubbling Paint
Bubbling paint is caused when a layer of paint isn't adhering to its underlying surface or substrate. The most common reasons for bubbling paint are dirt, extreme heat, inadequately prepared surface and moisture. Bubbling paint on exterior walls may indicate a roof leak that resulted in excess moisture compromising the paint's adhesion to the drywall or other surface.
If you've noticed any of the above signs of a roof leak, reach out to our emergency restoration services team for help. We can work with our commercial roofing contractors and roofing experts to provide roof leak repair and water damage remediation services.
How to Repair Water Damage from a Roof Leak
Repairing water damage after a roof leak can be a big task. If you have a team of contractors and tradespeople at your organization, you may be able to repair water damage internally. Here are steps to take to start the repair process:
Identify the source of the leak: Before attempting any repairs, identify the source of the leak. If you try to repair water-damaged materials without going through this step, you can expect the water damage the return.
Fix the cause of the roof leak: After identifying the source of the leak, work with a reliable commercial roof repair company to fix the issue. If you have trained roofers on your team, you may be able to complete this task without hiring a contractor. It's best to use someone who has experience with roof leaks and repairs.
Remove damaged materials: Water-damaged materials such as drywall and carpeting should be removed from the space. In some cases, you may be able to save a portion of the materials if they were not severely damaged. Warped drywall and soaked carpeting may still hold moisture long after the water issue has been resolved, so be sure it is completely dry if you are going to reuse the materials.
Dry out the space: For minor roof leaks, you may be able to dry out the affected area on your own. Open all windows to allow fresh air and sunlight to speed up the process and use a dehumidifier in spaces where it's safe to do so. For large water-damaged areas, a professional water damage restoration company can use commercial-grade air movers and dehumidifiers to dry the space out quickly.
Remediate mold: Where there's water damage, there is potential for mold. Consider engaging a mold inspector to look for signs of mold growth. It can be hard to miss sometimes and a mold inspector can use specific tools to help identify an issue.
Repair damaged drywall: Drywall is one of the most common materials to experience water damage from a leaky roof. Unfortunately, water-damaged drywall is hard to repair and should be removed. You can cut out small areas and patch the gap with materials you can find at your local home improvement store.
Replace damaged ceiling tiles: Discolored ceiling tiles? They are likely water damaged. Remove and replace any ceiling tiles that look faded, discolored, or are cracked or bubbling.
Contact a water damage remediation and restoration company: In most cases, it makes sense for a building owner or property manager to leave water damage restoration up to a professional like Reynolds Restoration Services. An emergency restoration services company has the tools, training, and expertise to repair water damage in a commercial property quickly and efficiently to help mitigate downtime and expenses.
LEARN ABOUT OUR WATER DAMAGE SERVICES
Commercial Water Damage Restoration
If your business has experienced a roof leak and water damage, reach out to Reynolds Restoration Services for help. For more than 15 years we have been assisting property managers and building owners restore their property to pre-loss condition quickly, efficiently, and professionally. We have the experience to get the job done right while not interrupting your building occupants.

We are always on call and with three offices in the region – Harrisburg, Pa., Philadelphia, Pa., and the Baltimore, Md./DC metro region, we can be on-site quickly to start the water damage remediation and restoration process.

')