Navigating the Road to Recovery
Fire can be one of the most devastating and traumatic experiences for homeowners. In a matter of minutes – or even seconds – property and belongings can be damaged, and oftentimes homeowners are at a loss for how to start the daunting task of clean up and restoration.
At Reynold Restoration Services, we have more than a decade of experience helping homeowners recover after a fire. From working with insurance adjusters to delicately restoring family heirlooms, our team of restoration specialists is ready to help, providing comfort along the way.
Five Steps to Do After a House Fire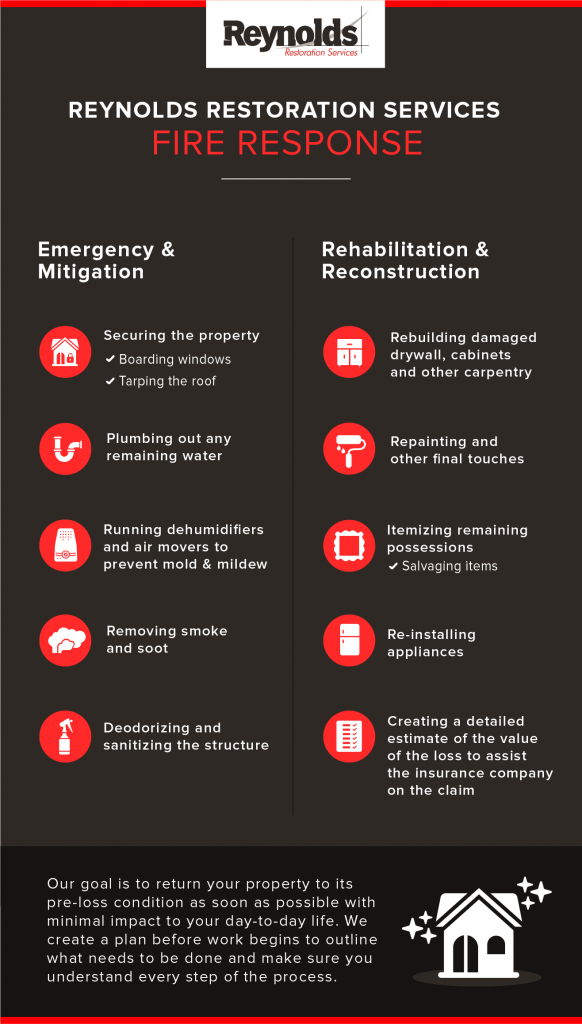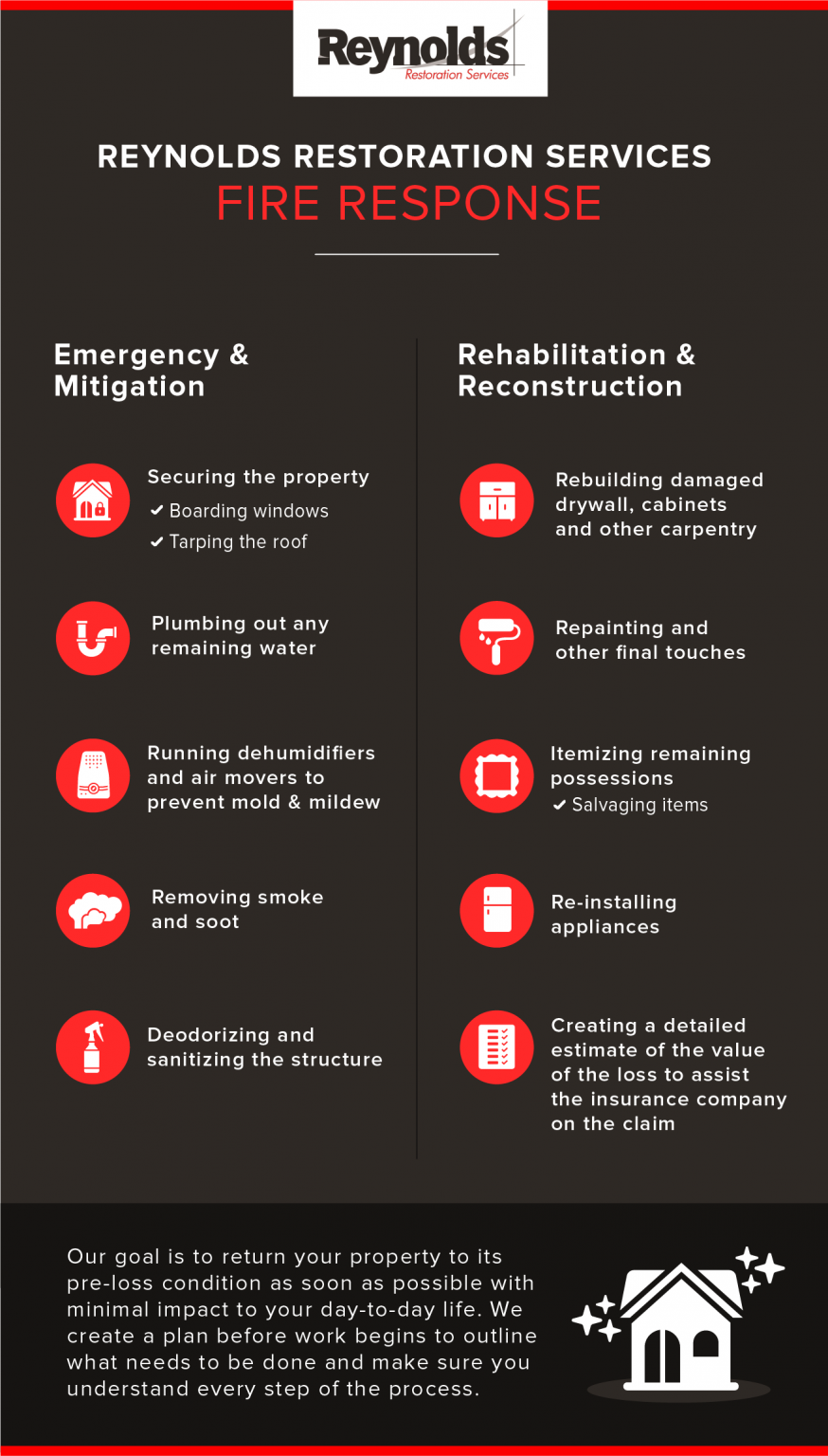 If you've experienced a fire in your home, it's important to take these five steps as you and your family begin the rebuilding process:
Call a professional restoration company. Once the fire is extinguished, call a restoration company like Reynolds Restoration Services. Restoration professionals can help you through the recovery process and can suggest next steps based on the severity of the fire. Reynolds Restoration Services is available 24/7 to respond. For safety reasons, only enter the home with the Fire Marshall or Reynolds Restoration Services until the property is cleared for entrance.
Get in touch with your insurance agent. Contact your insurance company, get a claim number and a possible day and time that a claims adjuster can visit the property. Be careful authorizing someone to represent your claim (such as a Public Adjuster) until you have spoken with your Insurance Agent or Insurance Company. Have Reynolds Restoration present when the Insurance Adjuster arrives to walk the property.
Recover your possessions. Reynolds Restoration will take inventory of your damaged property. This will help create a detailed list of what was lost in the fire for your insurance agent. The team will create an inventoried list of damaged items with the purchase price, brand, serial number and any other information that could determine the value of the loss. Once the items are cataloged, Reynolds Restoration Services can provide content cleaning and odor mitigation for your personal items that may have been damaged.
Keep track of all receipts for meals, housing, toiletries, clothing and any other "out of the ordinary" expense you may incur. These may be reimbursed by your insurance carrier. Receipts are critical to ensure you can be reimbursed.
Cancel or suspend utilities and subscriptions such as electric, water, cable, internet and even mail if you will not be living in the home during reconstruction. Oftentimes, emergency responders will shut off utilities during a fire. If you need to have the utilities turned back on be sure to check with the fire department before doing so as electricity may reignite a fire.
Reynolds Restoration Services Fire Response
When you call Reynolds Restoration Services after a fire, we will respond as quickly as possible, most times arriving on site within an hour to begin assessing damages. As soon as it is safely possible, our team of experience restoration specialists will:
Board up any broken windows.
Padlock doors not able to be locked.
Tarp roof if no longer waterproof (this maybe done the next day if conditions are not safe due to rain, ice, snow or structural stability issues).
Board up any openings leading to the outside.
If it is winter, water will be shut off, pipes drained, antifreeze put in sink traps, tub drains and toilets, and water heater drained.
Contain any debris outside the house with safety fence.
We understand that a fire is one of the most stressful times for homeowners. Our trained team has the experience to help your family restore your home to its pre-fire condition as quickly as possible. If you've experienced a fire, call us today to start the rebuilding process.
About Reynolds Restoration Services
Reynolds Restoration Services is the premier disaster restoration and reconstruction company in the Pennsylvania, New Jersey, Delaware, D.C. and Maryland service areas. Our qualified and dedicated staff are always on call to respond to fire, smoke, water, mold, and wind damage. With over 14 years of experience in the emergency restoration industry, Reynolds Restoration Services can help you return your property to pre-loss condition.