What is the Difference Between a Tropical Storm and a Hurricane?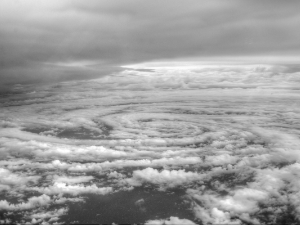 The Atlantic hurricane season officially started on June 1, with an expected increase in activity in August followed by a peak in September. While Southern and coastal states are at the highest risk to experience a hurricane or tropical storm, our region can also be impacted by these severe weather events. Tropical Storm Sandy brough more than 20 inches of rain to southern Pennsylvania in 2012, and most recently, Tropical Storm Fay hit New Jersey and parts of Pennsylvania in July 2020, causing flooding and related storm damage.
But what exactly is a tropical storm and how is it different from a hurricane? Both hurricanes and tropical storms are tropical cyclones. The National Oceanic and Atmospheric Administration (NOAA) defines tropical cyclones as rotating, organized systems of clouds and thunderstorms that originate over tropical or subtropical waters. They have a circular rotation and rotate counterclockwise in the Northern Hemisphere. The only difference between a tropical storm and a hurricane is wind speed. In fact, the technical difference between the two is just one mile per hour (mph) of maximum sustained winds.
Tropical Storm
A tropical storm is a tropical cyclone with wind speeds between 39 and 73 mph. Tropical storms bring high winds, storm surges, heavy rain and in some cases, tornadoes. Tropical storms develop during warm weather when pressure from evaporating oceans meets the cool air of the atmosphere. They can form and gain strength quickly. As soon as a storm reaches 39 mph, it is named using a method established by the World Meteorological Organization. Naming storms began in 1953 as a way to help reduce confusion and streamline communications to the public.
After a flood, it is critical to be safe when inspecting a flooded structure. Electricity and water are a dangerous combination, so be sure that your electricity is shut off completely as quickly as possible. If needed, contact your utility provider for assistance.
In cases of extreme flooding, the water in a structure may be contaminated with debris and even sewage. Wear personal protective equipment (PPE) such as masks, gloves, and boots, to protect yourself from injury if you are entering the damaged property.
Hurricane
A hurricane is characterized by wind speeds greater than 73 mph. Hurricanes are more intense and are categorized using the Saffir-Simpson wind scale.
Category 1: Wind speeds of 74-95 mph
Category 2: Wind speeds of 96-110 mph
Category 3: Wind speeds of 111-129 mph
Category 4: Wind speeds of 130-156 mph
Category 5: Wind speeds greater than 157 mph
Be Prepared
The best way to minimize impact from a tropical storm or hurricane to a home or business is to be prepared. Home and business owners should start preparing well before the season begins. Ready.gov, a division of the US Department of Homeland Security, offers the following tips to be prepared for hurricane season:
Learn About Our Storm Damage Restoration Services
Did Storm Damage Occur at Your Home or Business in PA, MD or NJ?
If you have experienced storm damage because of a summer storm, our team of commercial restoration specialists at Reynolds Restoration Services is on-call 24/7 to respond. For 15 years we have helped restore homes and businesses in the Harrisburg, PA, Philadelphia, PA, and Baltimore, MD/DC Metro region to their pre-loss condition quickly, safely, and efficiently. Reach out today for more information.

')