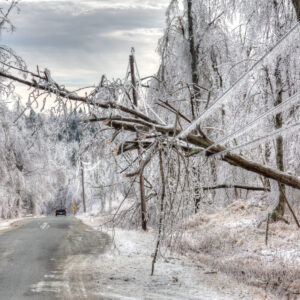 Winter can be a beautiful and cozy time of year, especially after a fresh snowfall. Winter can also be tough, with severe winter storms bringing frigid temperatures, high winds, ice storms, and power outages. While most power outages last only a few hours, winter power outages can sometimes last for a day or two. Snapped power lines, icy trees, and cars crashing into utility poles can cause outages that last for an extended period of time.
What can you do to prepare for a power outage during the winter? Let's look at what to do before the storm arrives, how to stay safe when the power is out, and steps to take once power is restored.
Before the Power Goes Out
While some power outages are hard to predict, some are easy to stay ahead of based on the winter weather forecast. If a winter storm is headed your way, here are some things to do before the storm arrives to keep your family and your home safe.
Get the essentials. In addition to the standard "milk, bread, and eggs," check your pantry and emergencies supplies to make sure you have what you need for a few days. A standard emergency supply kit includes food and water for three to seven days, flashlights and batteries, a battery-powered radio, first-aid supplies, extra medicine, and portable power packs for your mobile phone.
Weatherproof your home. Spend some time insulating water lines that can freeze during a power outage. Cold weather can cause burst pipes which can result in a flood. Caulk or weather strip doors and windows to keep your home warm. Repair roof leaks and cut extended tree branches to minimize storm damage risk.
Check your smoke and carbon monoxide detectors. When the power goes out, you may use your fireplace, kerosene heater, or wood stove to heat your home. While these methods will help you stay warm, there is a risk of fire and carbon monoxide poisoning. Make sure fuel-burning equipment vents outside the home.
Don't forget your four-legged family members. Do you have enough food for your family pets? When stocking your emergency kit for your family, include items for your furry family members. If your pets require any medicine, ask your vet for a supply before the storm. If you have pets that go outside, make sure they are safe and warm inside the home.
Create an emergency car kit. The safest place to be in a winter storm is at home, and unless it's an emergency, you should not leave the house. In some situations you may need to leave, so have a travel kit ready to go. Your car kit should include blankets, food, water, tow chains or rope, windshield scraper, winter clothing, a full tank of gas, booster cables, reflective equipment, and waterproof matches. The National Weather Services offers additional tips for emergency car kits.
During the Power Outage
While power outages are frustrating, the good news is that the power will be restored eventually. Until then, there are steps you can take to stay warm and keep yourself, your family, and your home safe from harm.
Follow the news and stay informed. Check with your neighbors to see if they are also experiencing an outage or if it is specific to your home. Report the outage to your power company. Turn on your local radio station on your battery-operated radio for local weather updates.
Unplug your appliances. A power surge or spike can destroy your appliances. Leave one light plugged in and turned on so you know when electric power is restored.
Avoid candles. Try to avoid candles for light since they bring a risk for fire. Use battery-operated lanterns and flashlights or glow sticks.
Avoid unnecessary trips to the refrigerator and freezer. Use food in this order > refrigerator > freezer > non-perishables. Your refrigerator will keep contents fresh for at least 4 hours, and your freezer will keep items frozen for around 48 hours.
Use your cell phone sparingly. You will need your phone in case of an emergency, so it's best to let it sit until you absolutely need it. Avoid using your phone for non-emergency-related reasons.
Bundle up. During a winter power outage, your home may cool off quickly. Dress in layers and if needed, wear hats, gloves, and scarves to stay warm.
Heat your home safely. One of the risks during a winter power outage is fire and carbon monoxide poisoning. Never bring a grill inside, and do not use your gas stove for heat. If you have a fireplace, use it safely to warm the house. Make sure the chimney is ventilating smoke outside the home.
When the Power is Restored
Once power is restored, you can get back to your normal routine after you take a few steps to check for damages after the storm. When the power returns, take these steps:
Plug in appliances. Plug in the appliances that you unplugged during the storm. Go room to room and make sure the electrical system works in each area of the house. If power works in one room but not another, check the circuit breaker to see if it tripped during the storm.
Check the basement for flooding. If your power outage lasted several days, check the basement or other areas where the water supply enters the home. Pipes can freeze and burst in cold buildings. If you have water damage, start to dry the area immediately to avoid mold growth.
Examine the exterior of the home. Harsh winter weather can cause damages to roofs, gutters, and siding. If you discover wind damage, contact an emergency restoration company to repair the affected area.
Avoid traveling until the roads are clear. Just because your power has returned doesn't mean it's safe to travel. Power lines may still be down in the area and can be hazardous. Stay put unless it's absolutely necessary to travel.
Reynolds Restoration Emergency Services After a Storm
Reynolds Restoration Services has more than 15 years of experience helping home and business owners restore their properties after a loss due to extreme winter weather, storm damage, fires, floods, and other catastrophic emergencies. With offices in Harrisburg, Pa., Philadelphia, Pa., and the Baltimore/DC Metro region, our team of trained emergency restoration professionals can be on-site quickly to help with damage restoration.

While we hope your home or business isn't impacted by severe weather, we are here to help if you need us. We are on-call 24/7 to respond and will work with your insurance company on your damage claim. We value the trust our clients put in us to restore their properties to their pre-loss condition and treat every project like it was our own. If you need our services, call our toll-free emergency line anytime at 1-888-277-8280.

')