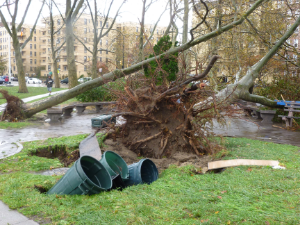 Summer storms can have a severe impact on a home or business, especially when accompanied by strong winds. Wind can tear off shingles from roofs, uproot trees, peel away siding from a structure and even decimate a building. According to research from the Congressional Budget Office (CBO), expected annual economic losses from wind and storm-related flooding can reach $54 billion – $34 billion in expected annual economic losses to home owners; $9 billion to commercial businesses; and $12 billion to the public sector.
While the estimated losses presented by the CBO include catastrophic weather events such as hurricanes, strong winds on their own can be damaging. There are several different types of winds associated with storms that occur in our region, most notably straight-line winds. Straight line winds are winds that travel in a uniform direction over an area (as opposed to a tornado or hurricane which produce winds in varying directions). Most thunderstorms produce straight line winds, so they are typical in the Harrisburg, PA, Philadelphia, PA, and Baltimore, MD regions.
Even though damaging winds are classified by the National Weather Service as those exceeding 50 mph, damage can occur with small gusts of 20 mph to aged roofs and structures. When severe weather is in the forecast, its important to understand the risks for a home or business related to wind speed. The National Weather Service (NWS) categorizes wind speed and its related damages as:
25-30 mph: When wind speeds reach 25 mph, large branches on tress will move, and utility wires will sway. Aging trees are a particular risk, as weak branches may fall onto rooftops, lawns, parking lots or streets. Walking begins to become difficult, and umbrella use at this speed becomes challenging.
30-40 mph: When wind reaches this speed, the National Weather Service will issue a wind advisory. This speed of wind makes it difficult to drive a vehicle and can blow small unsecured objects such as plastic lawn furniture around. Entire trees will be in motion.
40-45 mph: A 40-mph wind will cause a High Wind Watch by the NWS.  If a High Wind Watch is issued, home and business owners should secure all loose objects outside of a structure and unnecessary driving should be postponed. Tree twigs and small branches will break, and walking becomes impeded. Roofs are particularly vulnerable with winds in this range as loose shingles can be lifted from structures making water damage a likely side effect as the roof substrate becomes exposed.
45-55 mph: Structural damage is likely with winds over 45 mph, especially chimneys, shingles, and rooftop HVAC units. If you are near a beach, sea spray may affect visibility, and there will be high waves. Larger tree branches and weak limbs may break and if they are located near a structure can pose a damage risk.
55-65 mph: While rare in our region, wind speeds of 55-65 mph can happen. Entire tress can be uprooted, and significant structural damage can occur. Oftentimes widespread power outages are reported. Central Pennsylvania experienced winds of this speed in April 2020 and several business owners reported roof and structural damages caused by trees falling onto buildings.
65+ mph: The highest risk of damages to homes and businesses occurs when wind speeds reach 65 mph or greater. Heavy to severe structural and tree damage occur and travel is dangerous.
Tips for Preventing Damage from Winds
To minimize the impact of high winds on a structure, our team of commercial restoration specialists offers the following tips:
When strong winds or a storm is in the forecast, secure all loose objects at your home or business. This includes grills, furniture, lawn decorations, trash cans and recycle bins, small toys, to name a few. For commercial businesses, don't forget outdoor break areas with tables, umbrellas, and other amenities.
Ensure your roof and windows are in good condition prior to a storm. If you haven't had your structure inspected recently, consider reaching out to a contractor for a routine inspection.
Remove dead or dying trees from your property to limit the risk of damage to a nearby structure. While tree removal may seem like an unnecessary immediate expense, this can save home and business owners thousands of dollars in repair costs.
Learn About Our Storm Damage Restoration Services
Did Wind Damage Occur at Your Home or Business?
If you have experienced wind damage because of a summer storm, our team of commercial restoration specialists at Reynolds Restoration Services is on-call 24/7 to respond. For 15 years we have helped restore homes and businesses in the Harrisburg, PA, Philadelphia, PA and Baltimore, MD/DC Metro region to their pre-loss condition quickly, safely, and efficiently. Reach out today for more information.

')