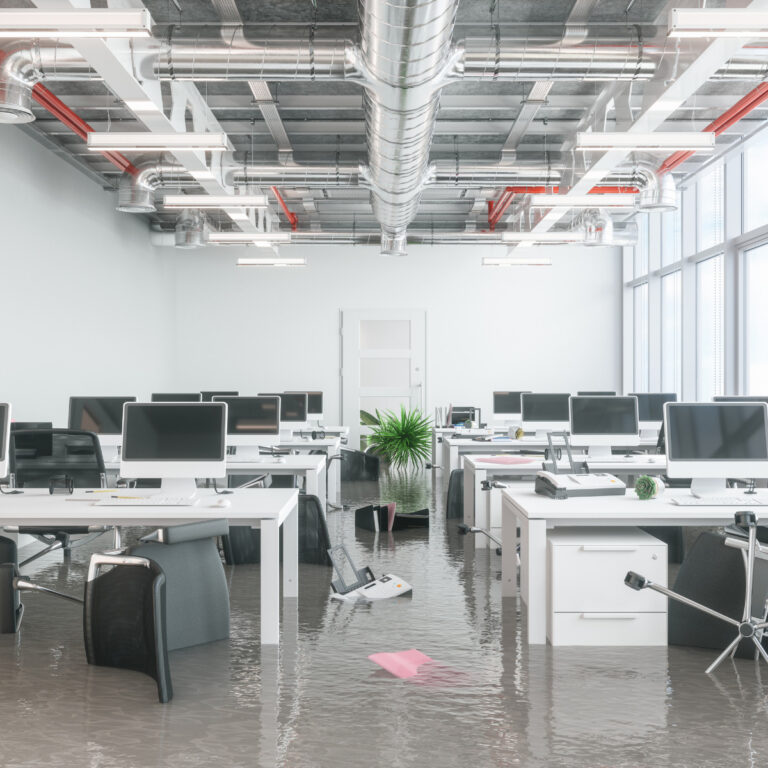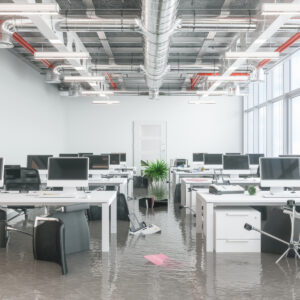 Commercial building water damage has a greater impact than a water loss at a residential property. Office building water damage is more complex not only because of the size of the property but also because of the complexity of the mechanical systems. When a water loss strikes, the consequences of water damage in a commercial building can be severe.
What are the top causes of water damage in a commercial property? And what are the common consequences? Let's take a look at both and also ways to prevent extensive water damage at a business.
Top Causes of Water Damage in a Commercial Property
Commercial water and property damage can be caused by a number of sources. Some water losses may be minor and can be contained without professional emergency restoration services and others can be catastrophic to business operations.
Some of the most common causes of water damage in a commercial property are:
Burst Pipes: Old and rusty pipes, worn-out seams, and freezing temperatures can cause pipes to burst in a commercial building. If not discovered and addressed quickly, thousands of gallons of water can quickly flood a building.
Sprinkler Systems: Some commercial water damage is caused by either faulty sprinkler systems or sprinkler systems that are used in the event of a fire. Oftentimes water damage goes hand-in-hand with fire damage.
HVAC System Issues: Heating and cooling systems get a workout in a commercial property. If they are not properly maintained or are past their lifespans, they can become a source of water damage.
Roof Leaks: A commercial roofing system is the first point of protection from the elements. Even minor roof damage can lead to water intrusion and over time, can cause quite a bit of water damage and even mold growth.
Whatever the cause, office building flood damage can interrupt business operations and cost thousands of dollars in downtime. The best way to minimize the impact of a water leak or flood is to be prepared with an emergency response plan.
Reynolds Restoration Services offers a free program for commercial clients that helps business owners prepare for an emergency. Our Proactive Restoration & Emergency Planning Program, or PREP, documents emergency protocols and procedures in a centralized location ensuring a proper emergency and disaster plan is ready and in place for the smallest emergency to the largest disaster.
Organizations enrolled in PREP are given priority during an emergency. Response times are minimized, reducing downtime and containing losses.
Potential Water Damage Issues
A water loss at a commercial property can lead to several different consequences. As a business owner, it's important to understand what can potentially happen after a flood or other water emergency. Several water damage issues include:
Damage to Property and Equipment: The most obvious issue with a water loss is the damage to property and equipment. Water can completely destroy electrical systems like point-of-sale, time tracking, inventory control, and desktop and laptop computers. Water can also damage things like inventory and supplies that are needed for operations. Structural components like drywall, flooring, ceiling, and lighting is also affected by water. These materials can be expensive to repair or replace.
Compromised Health and Safety of Occupants: Mold growth is the biggest risk after a water loss. Mold thrives in damp spaces, and if a building isn't properly dried out after a water event, mold can grow and cause health issues for the building occupants. Further, damaged materials such as flooring can become a trip hazard.
Revenue Loss: This is by far the biggest concern for business owners after a water loss. While the building is being dried out and repaired, businesses may have to halt operations. Catching a water loss early can minimize downtime and loss of revenue.
Water damage at a commercial property can close a business for weeks or months. While emergencies are hard to predict, there is a way to prepare for them. Businesses with an emergency response plan in place have a better chance of minimizing the impact on business operations.
Learn About Our water Damage Restoration Services
Water Damage Prevention Tips
The number one way to avoid costly water damage is to be prepared and invest time into preventative measures. The minutes and hours after a burst pipe or a flood are critical – responding quickly and efficiently can be the difference between a small water loss and one that causes a business to close its doors forever.
Here are ways to prevent water damage at a commercial property:
Have an Emergency Response Plan: Businesses with an emergency response plan in place are less likely to experience extensive water damage after a water loss. Your emergency response plan should include locations of water shut-off valves, emergency contact information for key staff and external vendors, floor plans, insurance protocols, and electrical protocols, to name a few.
Keep Up with Routine Maintenance: Get in the habit of doing routine maintenance at your commercial property. Create a maintenance schedule for windows and doors to repair leaks, have your roof sealed every few years, and visually inspect water-related equipment like HVAC and plumbing systems.
Engage a Professional to Inspect Building Systems: Even if your property manager and maintenance team are on top of routine maintenance, it's a good idea to engage a professional to inspect your building systems from time to time.
Being prepared is the best way to stay ahead of water damage issues at a commercial property. Have an emergency plan in place, perform routine maintenance, and have a professional inspect your building systems to look for potential risks. Even with proper preventative measures, a water loss can still occur. If you've experienced water loss at your business, we are available 24/7 to respond.
Commercial Water Damage Restoration Specialists
Reynolds Restoration Services is the premier commercial water mitigation and water damage restoration company in the mid-Atlantic region. With offices in Baltimore, Md., Harrisburg, Pa., and King of Prussia, Pa., our crews can be on-site quickly to respond to flood damage in commercial buildings. We have more than 15 years of experience working with property managers, insurance companies, building managers, and commercial property owners.

')