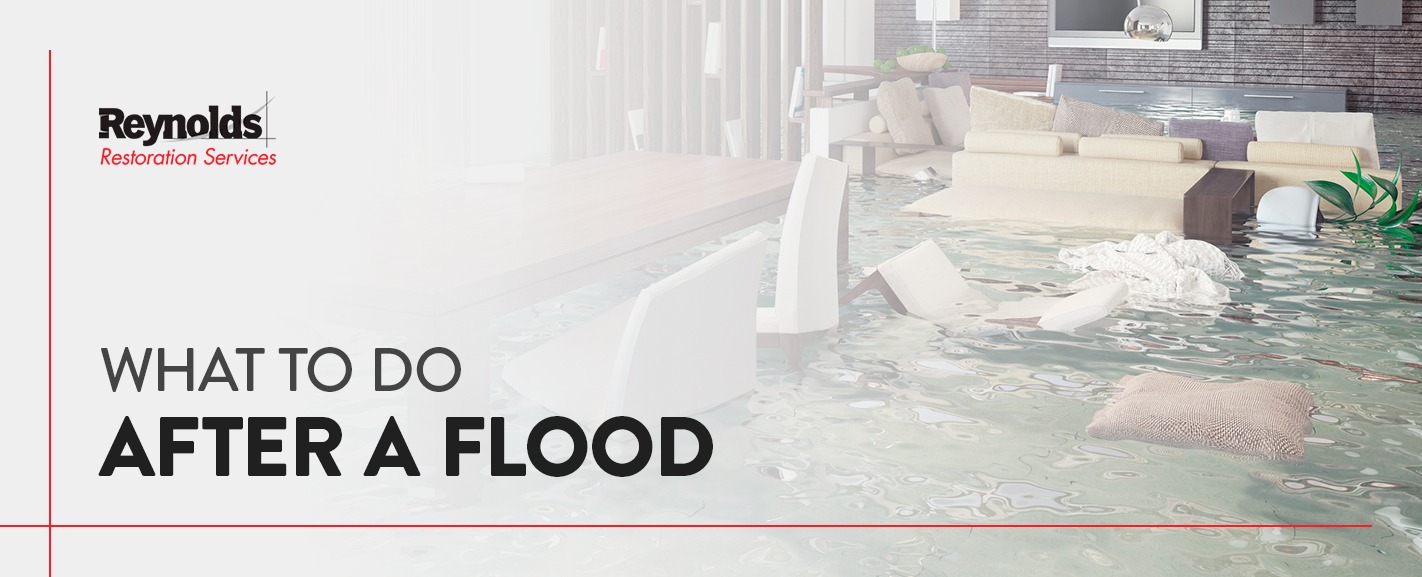 In 2019, flooding impacted more than 14 million people in the United States. Flooding can cause extensive water damage in homes and businesses, and it's essential to take quick action after a flood to protect business assets and home possessions. At Reynolds Restoration Services, we've responded to countless water and flooding emergencies over the last 15 years. Our team of restoration specialists offers the following tips for what to do after a flood in your house or business to get it dried out and back to its pre-loss condition.
Be Prepared
If you haven't experienced a flood, now is the time to plan in case of a water emergency. Businesses and homeowners with a proactive emergency response plan can reduce the amount of damage to their property after a flood. Your emergency plan should include:
Contact information for your insurance carrier and utility companies.
A detailed inventory of high-value possessions.
Documented locations of water and electrical shut-off valves.
Our team can help your business plan for a flood with our no-cost Proactive Restoration and Emergency Planning Program (PREP). This program allows businesses to prepare a proper emergency and disaster plan for all types of crises.
Be Safe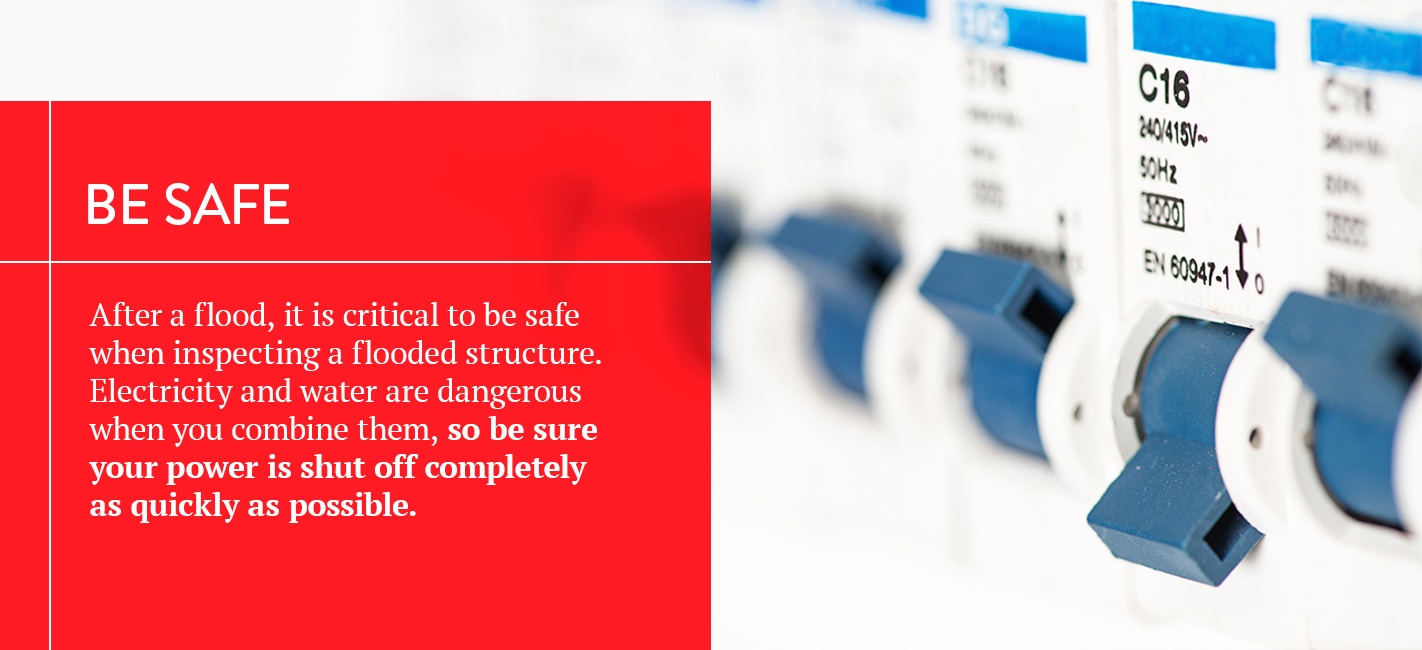 After a flood, it is critical to be safe when inspecting a flooded structure. Electricity and water are dangerous when you combine them, so be sure your power is shut off completely as quickly as possible. If needed, contact your utility provider for assistance. Follow these safety precautions after a flood:
Listen to local authorities: Stay in a safe place until the local authorities say you can return to your home or building. If your home has suffered water damage from a flood, you should make other living arrangements. When you return to your property, an electrician needs to check all your electrical appliances and outlets to make sure they're unharmed.
Inspect for structural damage: As you return to your building, make sure it's structurally sound. Inspect the walls and floors for buckling and watch for cracks and broken glass on the floor.
Wear protective equipment: In extreme flooding, debris and sewage can contaminate the water. Wear personal protective equipment (PPE) such as masks, gloves and boots, to protect yourself from injury if you are entering the damaged property.
Avoid floodwater: Avoid going through floodwater as you don't know what you'll find under the surface, and the water may have contaminants. If you come into contact with floodwater, wash the area with clean water and soap. You should also throw away food or other perishables that become contaminated with harmful water.
Document Damages
You should notify your insurance company as soon as possible after a flood. While insurance companies will send an adjuster to document expenses from a storm or water emergency, it's sometimes necessary for home and business owners to provide evidence. Make a note of things like flooring, soaked furniture, wet drywall and damaged possessions. Here are some ways you can give your insurance company the verification they need to reimburse you:
Take pictures: Before removing anything from your property, take photos or videos of your possessions. It's best to have digital evidence because you can store it electronically and copy it easily. You could affect your insurance claim if you tamper with your possessions, so make sure you get all the documentation you need before cleaning.
Call your representative: Contact your insurance representative after you've documented the consequences of the flood. Give them as many details as possible to help secure the compensation you need. Follow any advice they give you about waiting for an adjuster to inspect your property before you make repairs yourself.
Find out if you're in a disaster area: If local government authorities have labeled your region a disaster area, you have access to more resources that you can use to restore your property. You may also be eligible for financial assistance. Ask your insurance company if you're in a disaster area to take advantage of these resources.
Take Action
Knowing what to do in an emergency can save time and reduce recovery costs. Delays often result in additional damage to your property and its contents. Here are some steps for what to do after a flash flood to clean your home or business safely:
Mitigate mold development: If possible, keep your indoor air cold and dry to avoid mold and mildew growth. Remove wet clothing, bedding, furniture and rugs from the area 24 hours to 48 hours after a flood. After you dry the surfaces in your building, you can clean them with non-ammonia detergent and bleach to prevent or clean mold. Never clean with both ammonia and bleach because the fumes could be toxic to breathe.
Get rid of destroyed items: After bringing your affected belongings into a dry, safe place, inspect them for mold or damage. Think about whether these items are worth the monetary and sentimental value to keep or if it makes sense to get rid of them. Make sure you inform your insurance company of anything you need to dispose of after a flood to find out what your plan covers.
Turn off the electricity: Even if the power is off in the whole community, you should turn off the main power supply on your property so you can control when to turn it on once it is safe. To remove the water from your property, avoid using a vacuum or other electrical device because it could cause an electric shock. Also, avoid using electrical appliances until your local utility company tells you that they're safe.
Secure your property: Make sure your property doesn't face further damage after a flood. Seal openings left behind by broken windows, doors and roof shingles. Take photos to prove to your insurance company that you have done everything possible to protect your home.
Begin Drying
For small water leaks and incidents, you may be able to dry out a home or business. When it's safe for you to go back into your home or business, follow these tips for drying the property:
Open all windows to allow for both fresh air and sunlight to aid in reducing the moisture.
Use a dehumidifier in spaces like closed rooms and basements, as long as it's safe to do so.
Turn on fans and the central heating system to reduce moisture and inhibit mold growth.
Slowly remove water from your flooded property so you don't saturate the ground underneath it and cause the walls or floor to buckle.
Use sump pumps to get rid of excess standing water, then use a wet dry shop vac on the floors. When using electrical equipment, be careful not to get the extension cord wet.
Try to dry surfaces, such as upholstery or carpeting, that are prone to mold within two days of the flood to prevent mold and mildew growth.
In extreme cases, it's best to leave the drying to a professional flood restoration company. You could run the risk of getting electrocuted or damaging your property. Trust your commercial or residential property to us so you can go back to your routine.
Learn About Our Water Damage Restoration Services
Call Reynolds Restoration Services to Recover Your Property After a Flood
A water loss can be problematic and stressful for a home or business owner. For damage that affects more than a small area, you may want to call in a professional restoration company like Reynolds Restoration Services. An expert team of emergency restoration specialists has the equipment, training and resources to safely and quickly dry and repair a building.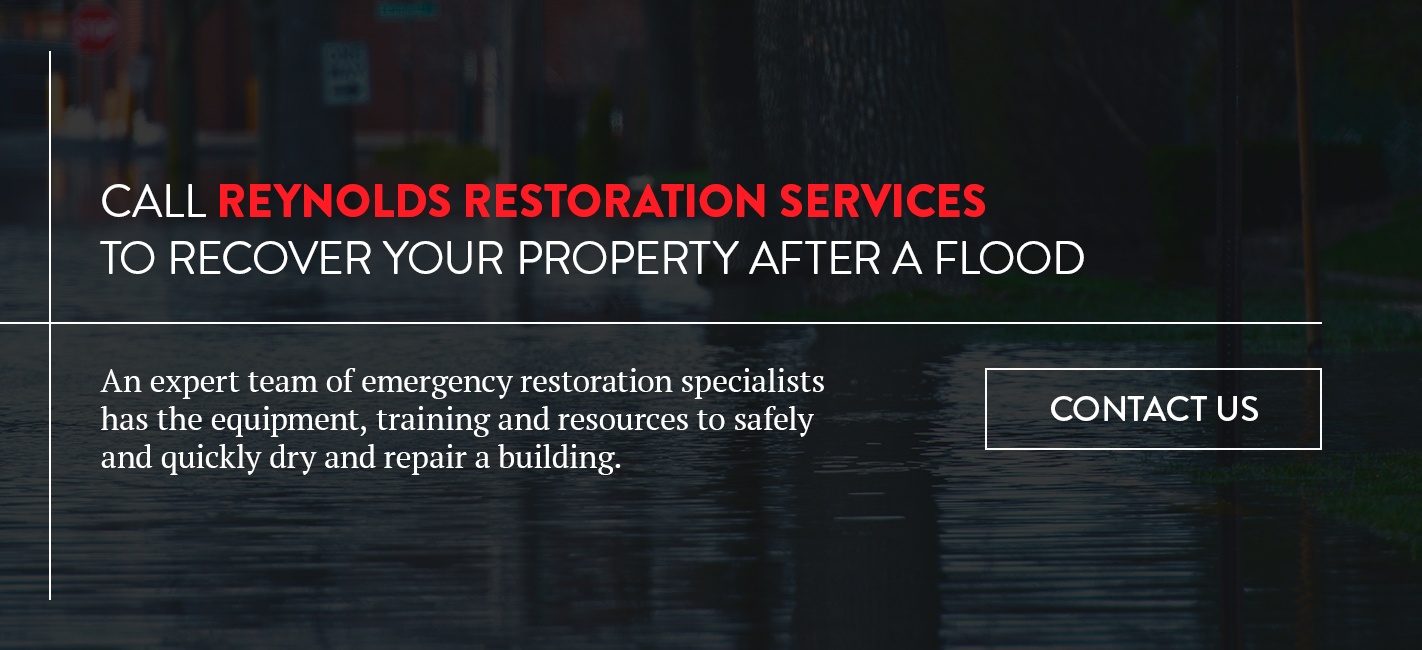 Our professionals in the restoration and construction industry are highly skilled to handle a flood or water emergency in the Mid-Atlantic region including Harrisburg, PA, Philadelphia, PA, and the Baltimore/DC Metro area. We offer 24-hour emergency response services if you find yourself in the middle of a storm. Contact us online or call 1-888-277-8280 to learn more about Reynolds Restoration's water damage services.

')